If you'd like to organize a workshop, simply fill out the form below. We'll find which Spinning Babies® Approved Trainer is available in your area.
Or, if you know the trainer you would like to invite, you can contact a specific Approved Trainer on the Spinning Babies® Approved Trainer Page.
---
Frequently Asked Questions
What are the Spinning Babies® Workshops?
Spinning Babies® Workshop – 7 hrs
2-day version also offered. .7 ACNM Continuing Education Hours (CEUs) available.
Spinning Babies® Integration Workshop – 7 hrs
Participants must have taken the Spinning Babies® Workshop. Assess "Where's Baby" with more insights into the Three Levels of the Pelvis. Gain solid protocols to help you fine tune physiological solutions. Analyze case studies.
Resolving Shoulder Dystocia with Spinning Babies® – 3 hrs
Taught by Gail or Nicole Morales. 3 MEAC CEUs for CPMS. Midwives/Apprentices, Physicians, and labor and delivery nurses only.
Breech Basics with Spinning Babies® – 3 hrs
Taught by Gail or Nicole Morales. 3 ACNM CEUs.
Each Spinning Babies® Approved Trainer sets their own workshop length, but the workshops must be at least the hours listed above.
Organizers sometimes set up multiple workshops in their area. Registration is through the Spinning Babies office. Exceptions, such as a hospital-based training, must be made with the office rather than the Approved Trainer.
What is the difference between a Spinning Babies® Workshop and a 2 Day Spinning Babies® Workshop?
In addition to the content presented in the 1 Day Spinning Babies® Workshop, the 2 Day Spinning Babies® Workshop includes:
Techniques to release the fascia and mobilize the sacrum
A case study of non-progressing labor to identify when Spinning Babies® concepts and techniques might be useful
Will you have CEUs available?
Very often the answer is yes. ACNM has granted our 7-hour workshop .7 CEUs and DONA recognizes the basic Spinning Babies® Workshop with advanced doula education certification. Ask the Trainer about CEUs for their workshop.
We are inquiring whether our workshops can apply to the requirements for CPMs seeking Bridge Certification.
Who takes a Spinning Babies® Workshop?
Birth care providers (midwives, doctors, nurses) and paraprofessionals, doulas, childbirth educators, prenatal yoga teachers, and bodyworkers who work with pregnant people.
A labor and delivery department may organize a Spinning Babies® Workshop for hospital staff by using the form at the top of this page. If you have a special request, please inquire by email at nancy@spinningbabies.com.
Does taking your class mean that I will be certified?
No. A Document of Attendance is given (or sent later) but that is not a certification in Spinning Babies. You cannot take this workshop and claim to be trained in Spinning Babies. See the Terms of Use and Legal Use of Spinning Babies pdf.
You CAN show your colleague how to do a technique if your instruction is not part of a class, session, or presentation booked or described as our trademark name Spinning Babies or any of our service marks. You can also use these techniques with pregnant and birthing parents!
However, you CANNOT advertise or use Spinning Babies services to promote your business without a contract and license from Spinning Babies, such as an Spinning Babies® Approved Trainer, Spinning Babies® Certified Parent Educator, or Spinning Babies® Aware Practitioner.
Learn how you can teach Spinning Babies® here.
How much does it cost?
We offer two types of arrangements:
Hosting a Workshop:
Organizers who are interested in hosting a workshop are responsible for the venue and refreshments. In return, you will get one free ticket. Some Approved Trainers offer another free ticket after a certain number of registered participants is met. Registration is taken through the Spinning Babies website or Eventbrite.
Sponsoring a Workshop:
Organizers who are interested in sponsoring a workshop are responsible for access to the venue and refreshments. The sponsor will take registration payments and will compensate Spinning Babies® with a percentage of the ticket sales and a flat fee.
Each Spinning Babies® Approved Trainer sets their own ticket price. Once you are connected with a trainer, you will discuss ticket price, access to venue, food and beverage, A/V equipment, massage tables, pregnant models, printed materials, CEU documentation, merchandise sales, and other details.
Organizers have options. Work with the Spinning Babies office for registration details.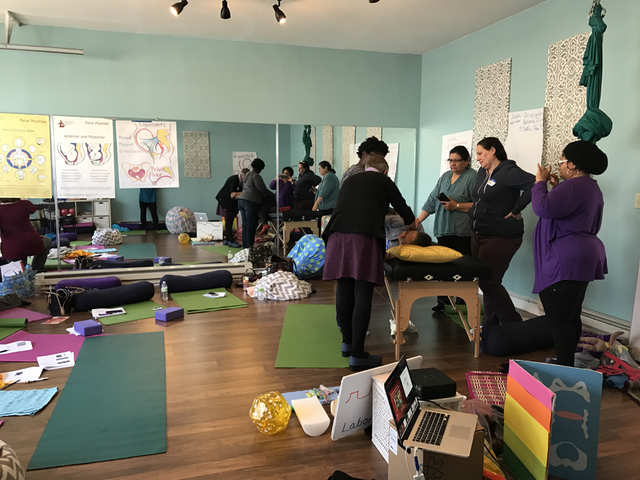 An ideal spot is a large yoga studio or conference room with AV, mats, bolsters, and room for one massage table for every ten people or portion thereof.
Are there handouts?
Participants receive handouts, in paper form or as an electronic pdf sent through email per Approved Trainer's preference. The workshop handouts are not the same as any of the products for sale, however, the Spinning Babies: Quick Reference and the video download Parent Class are the closest products to the workshop outline. The Quick Reference is a quick reminder of the techniques and when to use them. Without the workshop, using the Quick Reference will require a lot of time on the website. The Parent Class offers video instructions for parents on techniques also taught in the Spinning Babies Workshop that are useful to the provider in birth and pregnancy situations. For advanced learning on the provider level, download our video of a class by Dr. Carol Phillips, DC, – Better Birth with Body Balancing.
What size class do you need?
Each Approved Trainer will set their minimum (typically 24-30).
Class maximum is 36 including organizers and a seat for a Birthworker of Color or of a community whose statistically showing birth disparities. Income is not a factor.
What size room do you need?
Very large, open, carpeted room with AV. 20 x 25 feet is almost too small, 40 x 30 is better. Room to move and walk around massage tables as well as seating.
Do I need to fill anything out?
Fill out this form. You may also contact a particular Spinning Babies® Approved Trainer directly should you have a preference.
What might an organizer do?
Consider the size of the local birth community, venues, and other factors for ease of filling a workshop.
Secure a venue, visit the venue, send pics and links, be sure of access 90 minutes before and an hour after the workshop. Arrive at and stay through these times and do set up and clean up tasks.
Promote the workshop locally, in emails, social media, and local events in the months before this workshop. Each Approved Trainer will have a list of tasks to help you arrange your time and efforts. Arrange for a massage table for each 6 participants, 2 pillows for each, yoga mats, a peanut ball and a birth ball or two in medium sizes. Add more balls if sizes vary.
Seek out a pregnant model in the third trimester for the second part of the morning of the workshop that meets the needs of the workshop. A pregnant participant can volunteer for this presentation if more than 32 weeks pregnant.
Provide and arrange healthy refreshments. Consider grain and gluten-free choices as well as low or no sugar.
Organizers arrange venue rental, AV, refreshments.
Thank you for helping to bring Spinning Babies® Workshop to your area!
Very good workshop.. My mind is pretty much blown. I really want my co-workers to attend this workshop. – A. Young, former L and D nurse, California
Before Booking a Location
Please let the Approved Trainer know about the location and the venue before booking it. Ease to the airport can be a consideration to let them know. For instance a 4-hour drive from the airport may require 3 days to teach and may not be practical at all times.
The room will be large, clean, carpeted (or with yoga mats, little rugs, etc.) private and with good A/V. A projector in the ceiling creates a far superior experience than a projector on the table for this workshop. A waiting room of a birth center would have to be big enough & private.
Photos of your intended space (venue) are appreciated! Measurements may be required. Measure the room and include such helpful info in your email requesting a training.
Things to consider about location to make your workshop a success
Is the location in or near a favorite hospital or a regular doula or midwife meeting place? (Consider a conference room if it is large, private, carpeted, clean, centrally located, and free. Are doulas and midwives meeting there already?)
Is the actual site easy to access with off-street/free parking? Easy to travel to and from the airport in less than 2 hours?
Can the hostess and Approved Trainer arrive at 7 am to set up, or the night before?
Set up and clean up: 1 hr with help before class /1 hr after class in the room. (ranging ~7 am to 7 pm.)
Travel and Accommodations
Organizers are responsible to arrange ground transportation.
Private rooms in homes, hotel, or airbnb type arrangements are made by the organizer. Make the lodging onsite when possible or less than 30 minutes by car. Remember, you are arriving early!
What to do next if you would like to host a workshop
Before filling out the form:
Check local birth/parenting events to avoid conflicts with dates.
Affirm space at the Venue on the dates you discuss with your trainer
To assess interest, email your community. A potential host should get no less than 20 replies for Spinning Babies, 10 for RSD and Breech Basics before booking––remember, paid registrations are the only commitment taken. No spots are saved without payment. This number is to assess the market, The class is 36 including all seats, including organizers.