What is Spinning Babies?
Spinning Babies® is a paradigm, an approach. Spinning Babies is how we are Changing Birth on Earth.
Spinning Babies® is a unique approach to birth created by midwife Gail Tully.
We teach physiological release rather than a mechanical manipulation or force. The assumption that birth is a passenger powering through a pelvis (The old 3Ps paradigm) reduces creative, body-centered options for parent or provider alike. The release of the baby can be as natural as the release of hormones. Self-care and specific body activities restore body balance and make room for the baby. Babies can put themselves into the best positions possible for childbirth.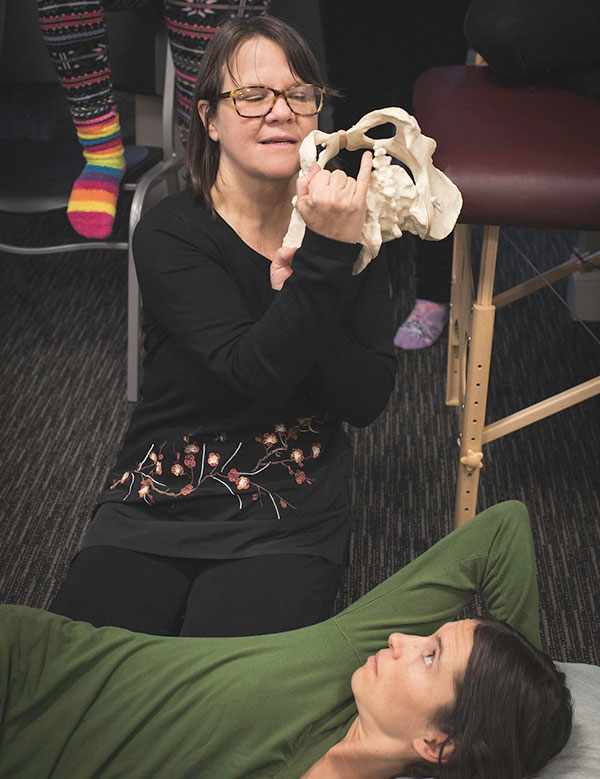 Pictured above: Gail locating the sacrotuberous ligament
Spinning Babies® offers a third solution to the extremes in childbirth today. Management with technology or patience with nature serve some but not all who are looking for easier childbirth. Ideology rarely offers truly empowering experiences in life, including childbirth. This approach includes a comprehensive plan for pregnancy preparation and labor activities to ease birth. Spinning Babies® can be used with any childbirth method or none at all. Spinning Babies approach is good in any childbirth setting, home, hospital and independent birth center.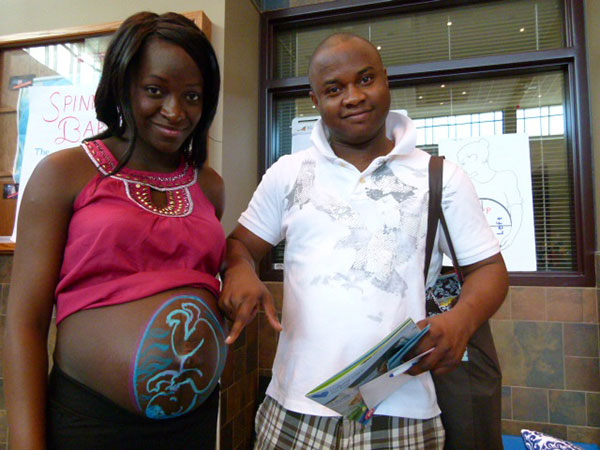 Gail's learned first hand from mentors such as Carol Phillips, DC,  that birth is "easier" when we have balance in the pelvis (including ligaments, fascia and muscles with the pelvis) than when we have tension, torsion, or a closed pelvic position.
Balance first.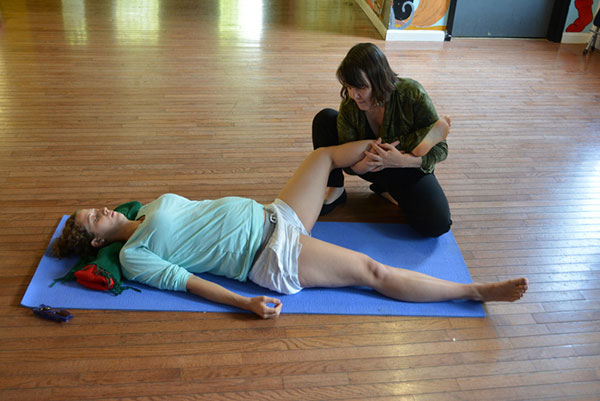 Gail facilitates a release to the connections around the hip ball and socket on a woman carrying a breech baby at 34 weeks with a breech baby to restore body balance. Combined with other techniques, her 45-minute appointment gave her baby room to turn head down within the hour. No manipulation of the baby was attempted or needed in this case. While this quick result is occasional, body balance for optimal positioning is shown in how fast baby moved into a head down position. Gravity works better when there is room to accommodate baby's head! We reveal which birth positions opens the pelvis where baby waits.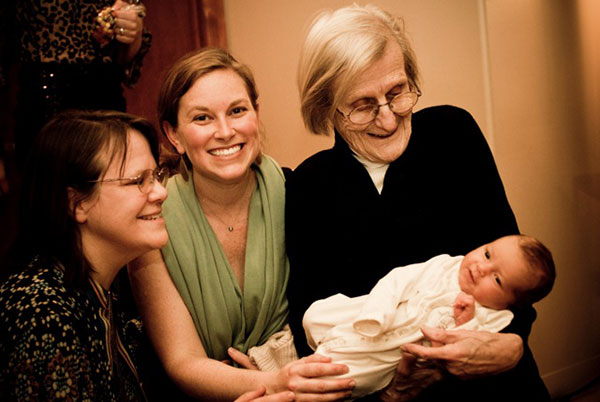 Alisa Blackwood and her baby with Gail and Gail's mom.
Some posterior births are relatively easy, that's true. A very few anterior babies need help to come out. Fetal position shares a stage with several leading actors, such as Flexion, Body Balance, and, don't forget the importance of the Parasympathetics in the ease of birth. Reducing force requires an invitation to more players than just "size." There's more to the ease of birth than the size of the baby!  You can get the overview of this new paradigm right now in the Spinning Babies; Parent Class:
About Gail Tully, midwife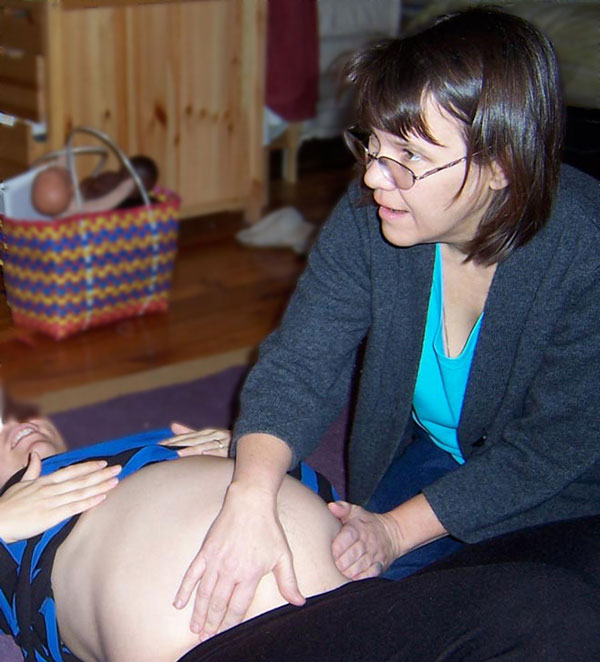 Above: Gail observes with the eyes of the hands and brings insight to the mysteries of fetal position and rotation
Midwife Gail Tully (CPM) is the creator of the Spinning Babies® approach. Recognized around the world by midwives, nurses, childbirth educators, and doulas, Gail's ability to recognize the spatial relationships between the soft tissue pelvis and the baby has contributed a paradigm shift in childbirth care.  From Gail's small independent practice to local community work to global education.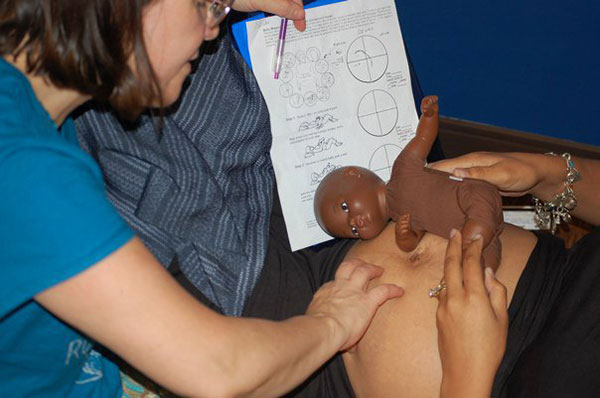 Gail Tully created Belly Mapping to answer "Why didn't anyone know?" in situations of long labors due to posterior fetal position.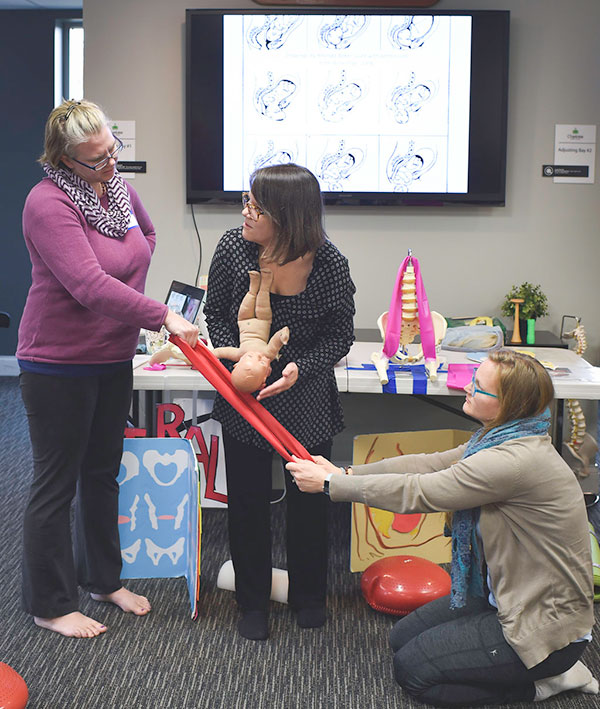 The more you know about birth the more Spinning Babies can revolutionize your birth practice.
In her home town of Minneapolis, Minnesota, USA, Previously a program coordinator for Hennepin County Doula Program, consultant for the Turtle Women Doula and Somali Doula Programs and a founder of the Childbirth Collective, one of the largest doula organizations in the USA. Many innovations are coming through Spinning Babies® view of birth. Gail Tully's way of matching when to do what, or the Three Levels Solutions(SM), show providers and parents how to open the part of the pelvis where the baby is waiting. Instead of going through a series of favorite positions, which may help or may not, specific birth positions can now be intelligently chosen. Oddly enough, the understanding of the three levels of the pelvis has never been systematized before. Nurses, midwives, and now doctors, are adapting this simple and sensible approach to a variety of birth situations, including posterior and breech births.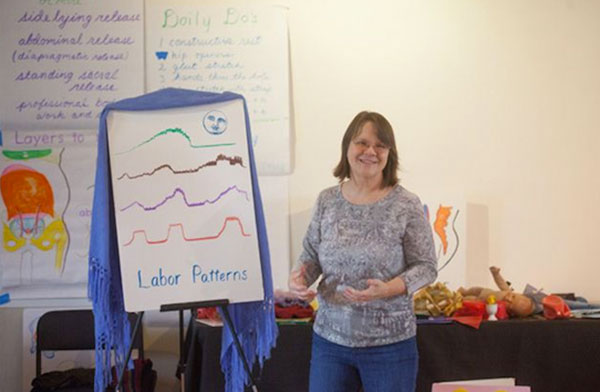 Before Spinning Babies®, labor patterns were not identified in our birth as clues to engagement and application of the baby in the pelvis and to the cervix; or alignment of the uterus and pelvis; or specific and resolvable physiological issues.
Gail Tully is the author of Breech Birth Quick Guide; Spinning Babies® Quick Reference; and Belly Mapping®, How kicks and wiggles reveal your baby's position. Gail's three videos are Spinning Babies® Parent Class, Daily Essentials (with Sarah Longacre of Blooma); and Resolving Shoulder Dystocia.  Penny Simkin and Ruth Ancheta's Labor Progress Handbook features Belly Mapping in Chapter 3. Anne Frye's Holistic Midwifery, Vol 2, cites Gail on shoulder dystocia. Midwifery Today has published Gail on shoulder dystocia; Belly Mapping; and Opening the Brim, and Resolving Breech Obstruction. Newton Wesley Hospital made Spinning Babies® into a Quality Improvement program to empower nurses through physiological technique. The annual American Public Health Association accepted their poster presentation. Enthusiastic nurses are using Spinning Babies® as their own chosen way to reduce the cesarean rates at their hospitals. Gail brings a new level of empowerment to parents and a new understanding of birth physiology to providers. She calls it, "Spinning Babies."
Check for more information on the Approved Trainers under the Community tab. Interested in bringing Gail or another Approved Trainer to your city? See the current list of Approved Trainer on our Spinning Babies website and book a workshop with this form  Organize a Spinning Babies® Workshop" Inquiry Form Spinning Babies® has been online since 2001. Belly Mapping® was first developed in 2003 and published in 2005. Our website and use of Trademark, Service Marks (SM) are protected and only used with a current license from Maternity House Publishing, Inc. (dba Spinning Babies).