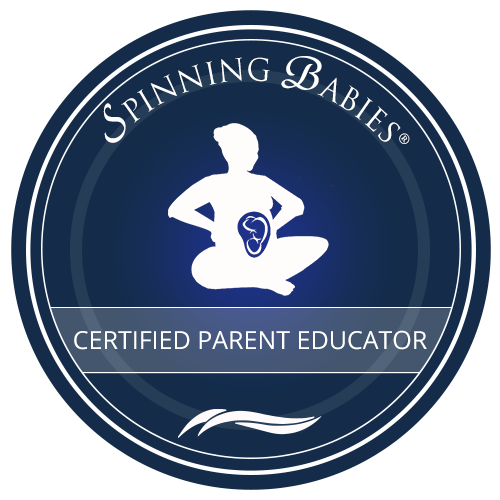 Spinning Babies® Certified Parent Educators teach the in-person Spinning Babies® Parent Class.

Spinning Babies® Parent Class
During labor the baby needs to pass through the three levels of the pelvis. Learn techniques to help your pelvis and it's muscles that support or restrict your pelvic levels. Together, you and your birth partner can use these techniques before and during labor to help "make room for baby!" Spinning Babies reveals how the baby can find optimal positions for labor, and make birth less painful, and even pleasurable! This class is for expectant parents only.
Amaris

Garcia
CBE, CBC, CLD, SBD, Spinning Babies® Certified Parent Educator (SpBCPE), Childbirth Educator, Birth, Postpartum, & Bereavement Doula, Breastfeeding Counselor, Doula Trainer, Photographer, Herbalist
Amaris Garcia, Birth & Lactation Services
Address
Sioux City, Orange City & surrounding Siouxland region
IA
USA
work
Phone
:
712-420-5586
work
Email
:
birthandlactation@gmail.com
INTERNET
Website
:
http://www.birthandlactation.com
Biographical Info
Amaris serves families with evidence-based and holistic private and group childbirth education classes, group and private Spinning Babies® Parent Classes, virtual birth coaching, private lactation support in the home and via video, doula services, postpartum support, herbal education, and photography! She also trains local doulas and manages a doula program. She has completed many certifications and has been trained to offer families support during the entire journey of parenthood, from pregnancy to newborn care. Amaris is very compassionate in all situations and loves helping families trust in the amazing, natural design of the human body and help them to have enjoyable, healthy pregnancy and birth experiences. She has both used and seen the Spinning Babies exercises help many women to have improved birth experiences and is pleased to be the first in Iowa to be certified to teach the parent classes! Sometimes described as having a calming and quiet presence, Amaris is also said to be very passionate about all that she does, always willing to take the extra time to find answers or be a listening ear for families, and advocates for informed decision making by the parents through the entire birth process.
Categories:
Iowa,
Spinning Babies® Certified Parent Educator (SpBCPE)