Spinning Babies® Aware Practitioners
The following list of bodyworkers and birth workers have completed Spinning Babies® Professional Bodywork Education requirements for being listed on our website, including two Spinning Babies® Workshops.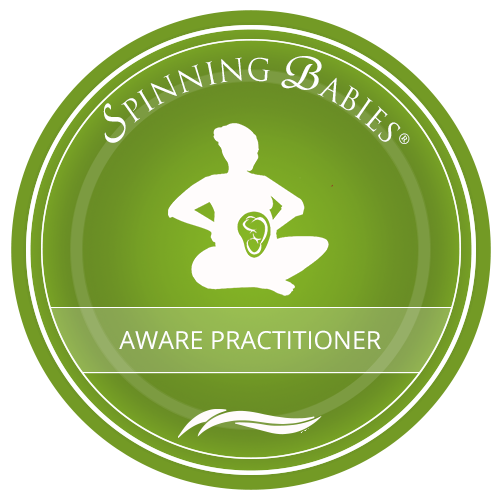 Spinning Babies Aware Practitioners have been trained in a bodywork protocol intended to allow:
Comfort in pregnancy
Spontaneous change to a more optimal fetal position, where space is available in the womb
Progress and less pain in labor
Baby to move themselves into the new space made by reducing tensions and torsions in muscles and ligaments
Each practitioner will offer techniques according to their title, scope of practice, and skills. For instance, a midwife, nurse, or doctor will not have the full range of a bodywork knowledge or license. A bodyworker would not be able to do things a midwife or medical doctor has in their scope of practice. This may or may not limit results. Results occur on an individual basis.
Practitioners on this listing agree not to manipulate the baby's position (push, turn) by their hands unless they are a doctor or midwife trained in external cephalic version (ECV).
Spinning Babies does not assume risk. Decide upon a course of care with your practitioner that you find comfortable and safe.
Find out more about how to become a Spinning Babies® Aware Practitioner.
Tania

De Filippis Pardi
Doula, Spinning Babies® Aware Practitioner (SpBAP)
Address
Campinas,
State of São Paulo
Brazil
work
Phone
:
+55(19)993412278
work
Email
:
tdefilippis@hotmail.com
INTERNET
Biographical Info
Born American, raised and lives in Brazil (Campinas/SP).
Experienced Doula and Psychoanalyst in all phases of this wonderful journey called pregnancy and Motherhood! Get the information you need, all evidence based material, through her birth support meetings (Grupo Vínculo) and/or private sessions . From physical comfort to emotional support, a Doula will always be there for you.  Hosts Pregnant Couples and postpartum support group meetings and breastfeeding counseling .
Categories:
Brazil,
Doula,
Spinning Babies® Aware Practitioner (SpBAP)