Spinning Babies® Aware Practitioners
The following list of bodyworkers and birth workers have completed Spinning Babies® Professional Bodywork Education requirements for being listed on our website, including two Spinning Babies® Workshops.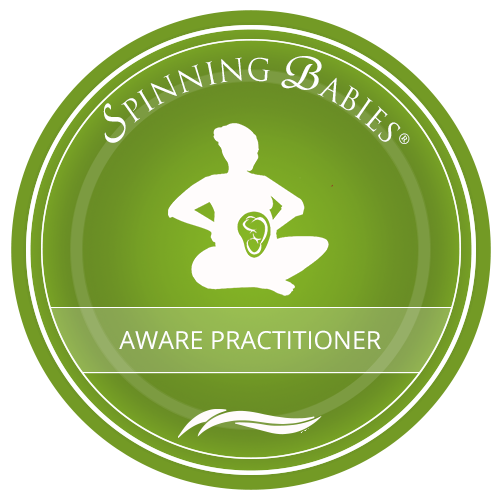 Spinning Babies Aware Practitioners have been trained in a bodywork protocol intended to allow:
Comfort in pregnancy
Spontaneous change to a more optimal fetal position, where space is available in the womb
Progress and less pain in labor
Baby to move themselves into the new space made by reducing tensions and torsions in muscles and ligaments
Each practitioner will offer techniques according to their title, scope of practice, and skills. For instance, a midwife, nurse, or doctor will not have the full range of a bodywork knowledge or license. A bodyworker would not be able to do things a midwife or medical doctor has in their scope of practice. This may or may not limit results. Results occur on an individual basis.
Practitioners on this listing agree not to manipulate the baby's position (push, turn) by their hands unless they are a doctor or midwife trained in external cephalic version (ECV).
Spinning Babies does not assume risk. Decide upon a course of care with your practitioner that you find comfortable and safe.
Find out more about how to become a Spinning Babies® Aware Practitioner.
Dr. Janna

Hansen
Perinatal Chiropractor, Spinning Babies® Aware Practitioner (SpBAP)
East Bay Perinatal Chiropractic
Address
Walnut Creek, San Francisco East Bay
CA
USA
work
Phone
:
925-494-0632
work
Email
:
drjannahansen@gmail.com
INTERNET
Biographical Info
Dr. Janna Hansen is a chiropractor with a perinatal specialty and has been helping families get healthier for the past 10 years. From a holistic perspective, she combines chiropractic adjustments and soft tissue work to ensure the body is balanced optimally. Balanced body = Balanced baby = Better birth.
She routinely sees women for wellness care throughout pregnancy and postpartum as well as those with breech, transverse or posterior presentations. Women seek care for back pain, head ache, carpal tunnel syndrome, pelvic floor imbalance, pubic symphysis pain, scoliosis, sciatica and any problem relating to posture and stress. She uses craniosacral technique and gentle adjusting for infants and children with latch issues, palate imbalances, autism, ADD/ADHD, sleep problems, digestive issues, colic and ear infections.
She has advanced training in pediatric chiropractic, perinatal chiropractic, bodywork, and is a Certified Pre- & Post-Natal Coach. She completed a 10 month apprenticeship with a midwifery practice and has taught at the graduate level: public health, research, chiropractic techniques and various nutrition and wellness courses. She received her BA in Philosophy from UC Berkeley and Doctorate of Chiropractic at Life Chiropractic College West graduating valedictorian. It is her honor to assist families to have safe and satisfying births–and provide continuity of care for families throughout this powerfully transformative period.
Categories:
California,
Chiropractor,
Spinning Babies® Aware Practitioner (SpBAP)