Spinning Babies® Aware Practitioners
The following list of bodyworkers and birth workers have completed Spinning Babies® Professional Bodywork Education requirements for being listed on our website, including two Spinning Babies® Workshops.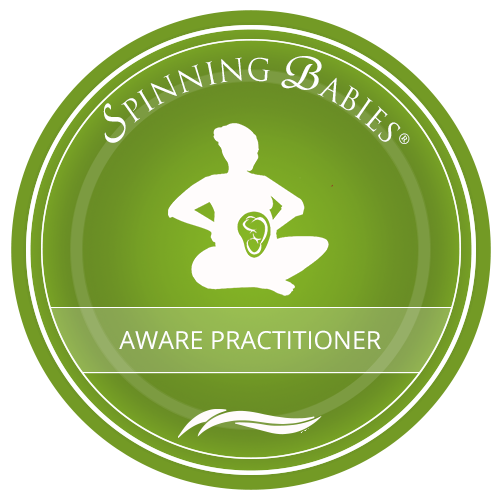 Spinning Babies Aware Practitioners have been trained in a bodywork protocol intended to allow:
Comfort in pregnancy
Spontaneous change to a more optimal fetal position, where space is available in the womb
Progress and less pain in labor
Baby to move themselves into the new space made by reducing tensions and torsions in muscles and ligaments
Each practitioner will offer techniques according to their title, scope of practice, and skills. For instance, a midwife, nurse, or doctor will not have the full range of a bodywork knowledge or license. A bodyworker would not be able to do things a midwife or medical doctor has in their scope of practice. This may or may not limit results. Results occur on an individual basis.
Practitioners on this listing agree not to manipulate the baby's position (push, turn) by their hands unless they are a doctor or midwife trained in external cephalic version (ECV).
Spinning Babies does not assume risk. Decide upon a course of care with your practitioner that you find comfortable and safe.
Find out more about how to become a Spinning Babies® Aware Practitioner.
Catherine

Burns
Somatic Movement Therapist, Myofascial Therapist, Craniosacral Therapist, Doula, Lactation Counselor, Spinning Babies® Aware Practitioner (SpBAP) Spinning Babies® Certified Parent Educator (SpBCPE), Savvy Birth, Evidence Based Birth® Instructor
MamaBebe LLC
Address
2228 Seabury Avenue
Minneapolis,
MN
55406
USA
work
Phone
:
612-227-3071
work
Email
:
Catherine@MamaBebe.org
INTERNET
Website
:
http://www.MamaBebe.org
Biographical Info
Catherine Burns supports childbearing women and newborns as a somatic bodyworker, doula, lactation counselor and parent educator. In her MamaBebe practice she helps families prenatally, during birth, for breastfeeding, and in recovery from birth.
As a Spinning Babies® Aware Practitioner Catherine offers alignment support through hands-on and movement therapies. She combines Spinning Babies® Aware bodywork techniques with years of practice as a somatic movement therapist in offering craniosacral therapy and myofascial toning release, as well as mindfulness in guided movement.  In somatic bodywork sessions pregnant women/persons can come into deep relationship with their inner world and make new connections with baby.
In Spinning Babies® Parent Classes Catherine teaches the essential movements that enable a woman/childbearing person prepare for birth and to move through birth well.  Partners/dads learn how to help relieve discomfort in pregnancy and to open space in the pelvis at birth for baby to come through.
For most women Spinning Babies activities can resolve prenatal discomforts and imbalanced alignment that could lead to a difficult birth. Some pregnant women, who still feel persistent discomfort or if baby is in a difficult position, will need Spinning Babies® Aware bodywork.
Families can face the intensity and uncertainty of birth with greater confidence, knowing that they have made their best efforts with Spinning Babies activities learned in the parent class and have received the best care for mother/birthing person and baby with Spinning Babies® Aware bodywork to increase the ease of birth.
Categories:
Craniosacral Therapist,
Doula,
Minnesota,
Minnesota,
Somatic Movement Therapist,
Spinning Babies® Aware Practitioner (SpBAP),
Spinning Babies® Certified Parent Educator (SpBCPE)