Spinning Babies® Aware Practitioners
The following list of bodyworkers and birth workers have completed Spinning Babies® Professional Bodywork Education requirements for being listed on our website, including two Spinning Babies® Workshops.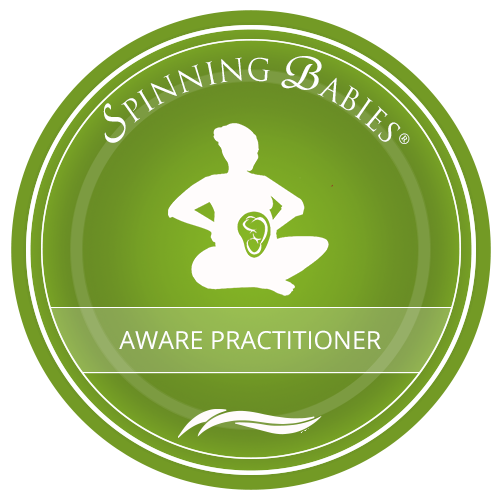 Spinning Babies Aware Practitioners have been trained in a bodywork protocol intended to allow:
Comfort in pregnancy
Spontaneous change to a more optimal fetal position, where space is available in the womb
Progress and less pain in labor
Baby to move themselves into the new space made by reducing tensions and torsions in muscles and ligaments
Each practitioner will offer techniques according to their title, scope of practice, and skills. For instance, a midwife, nurse, or doctor will not have the full range of a bodywork knowledge or license. A bodyworker would not be able to do things a midwife or medical doctor has in their scope of practice. This may or may not limit results. Results occur on an individual basis.
Practitioners on this listing agree not to manipulate the baby's position (push, turn) by their hands unless they are a doctor or midwife trained in external cephalic version (ECV).
Spinning Babies does not assume risk. Decide upon a course of care with your practitioner that you find comfortable and safe.
Find out more about how to become a Spinning Babies® Aware Practitioner.
Annie

Bouthot
Spinning Babies® Certified Parent Educator (SpBCPE), Birth Doula, Childbirth Educator, Perinatal Care Naturopath and Massage Therapist
Address
Quebec,
Canada
work
Phone
:
514-755-3252
work
Email
:
coeuracorps.accompagnement@gmail.com
INTERNET
Biographical Info
(Version Française ci-dessous) Annie gave birth to her son more than 19 years ago. She did it with the help of a passionate and caring midwife who showed her the path, her path to believe in her, in her inner strength and her capacity to give birth. After a successful career as procurement manager, she went back to her roots to follow her dream and accomplish her life mission. She is now working with pregnant women and couples to provide them advice and tools to facilitate this amazing journey. In addition to be a Spinning Babies® Certified Parent Educator (SpBCPE), she's also a licensed doula, perinatal care naturopath and a massage therapist specialized in fasciatherapy. She's offering her services mostly in the greater Montreal area, in French or English.
Annie donnait, il y a plus de 19 ans, la vie à son fils avec l'aide d'une sage-femme. Cette dernière lui a montré le chemin, son chemin, afin de croire en elle, en sa force et sa capacité de s'accoucher. Aujourd'hui après avoir travaillé plusieurs années en tant que professionnelle/gestionnaire en approvisionnement elle a reprit le contact avec cette force qui dormait en elle afin de réaliser ses rêves et de s'accomplir dans sa mission de vie, auprès de femmes, de couples, désireux de faire un choix éclairé. Elle est une amoureuse de l'humain, de la vie… C'est donc un grand privilège, pour elle, que de pouvoir faire partie de votre équipe afin de pouvoir vous aider à naviguer tout au long de la grande traversée. En plus d'être instructrice parentale pour Spinning Babies®, elle est aussi accompagnante à la naissance, naturopathe en périnatalité et massothérapeute spécialisée en fasciathérapie. Elle offre ses services principalement dans le très grand Montréal, en français ou en anglais. « Accompagner quelqu'un, ce n'est pas le précéder, lui indiquer la route, lui imposer un itinéraire, ni même connaître la direction qu'il va prendre ; mais c'est marcher à ses côtés en le laissant libre de choisir son chemin et le rythme de ses pas. » Patrick Verspieren
Categories:
Canada,
Canada,
Spinning Babies® Aware Practitioner (SpBAP),
Spinning Babies® Certified Parent Educator (SpBCPE)