Spinning Babies® Aware Practitioner Approved Workshop:

Integral Touch of Birth
With Adrienne C. Caldwell, Debra McLaughlin and Marcello Windolph
Professional medical, birth, and bodyworkers gain philosophical and scientific education in craniosacral, fasciatherapy, and integrated manual therapy for pregnant clients. Hands-on training focuses on respectful, perceptive touch in pregnancy and birth.

May 10 - 13, 2018
San Diego, California
*Pre-requisite Spinning Babies Workshop

May 9
May 17 - 20, 2018
St. Paul, Minnesota
*Pre-requisite Spinning Babies Workshop

 May 16
We facilitate the body making room for the baby to get into the best position, while remembering that the pregnant person is making emotional and psychological room to integrate pregnancy and birth into parenthood.
Gail Tully
Immerse yourself in the Spinning Babies paradigm.
Each day includes education, training, and hands-on practice with professional coaching by profound educators: Debra McLaughlin, Adrienne Caldwell, and Marcello Windolph.  

Gail Tully, CPM and Creator of Spinning Babies® or Nicole Morales, CPM and Spinning Babies® Approved Trainer will present Spinning Babies integration for your client communication and services, and explain how doulas fit this skill set into a Doula Scope of Practice.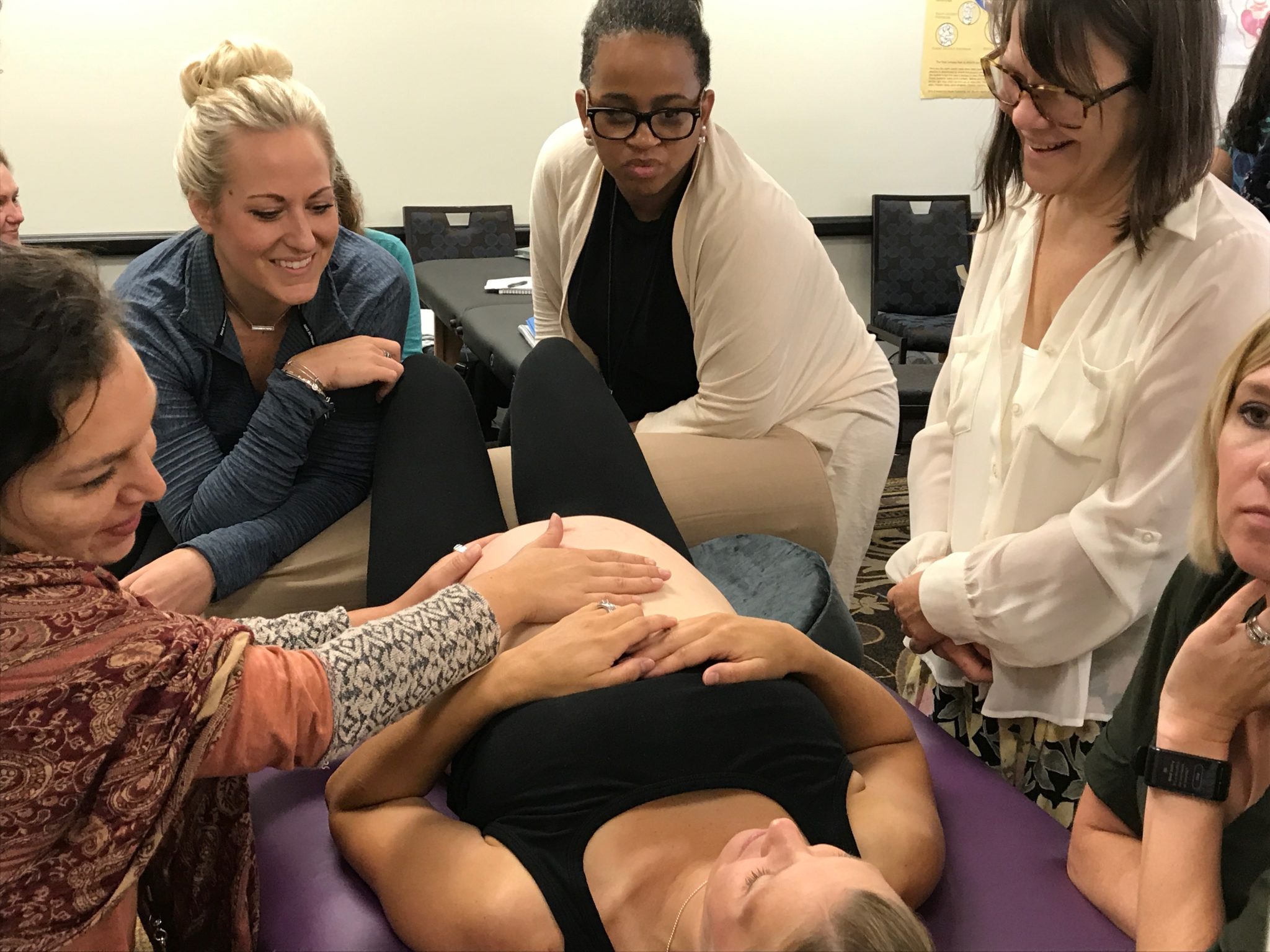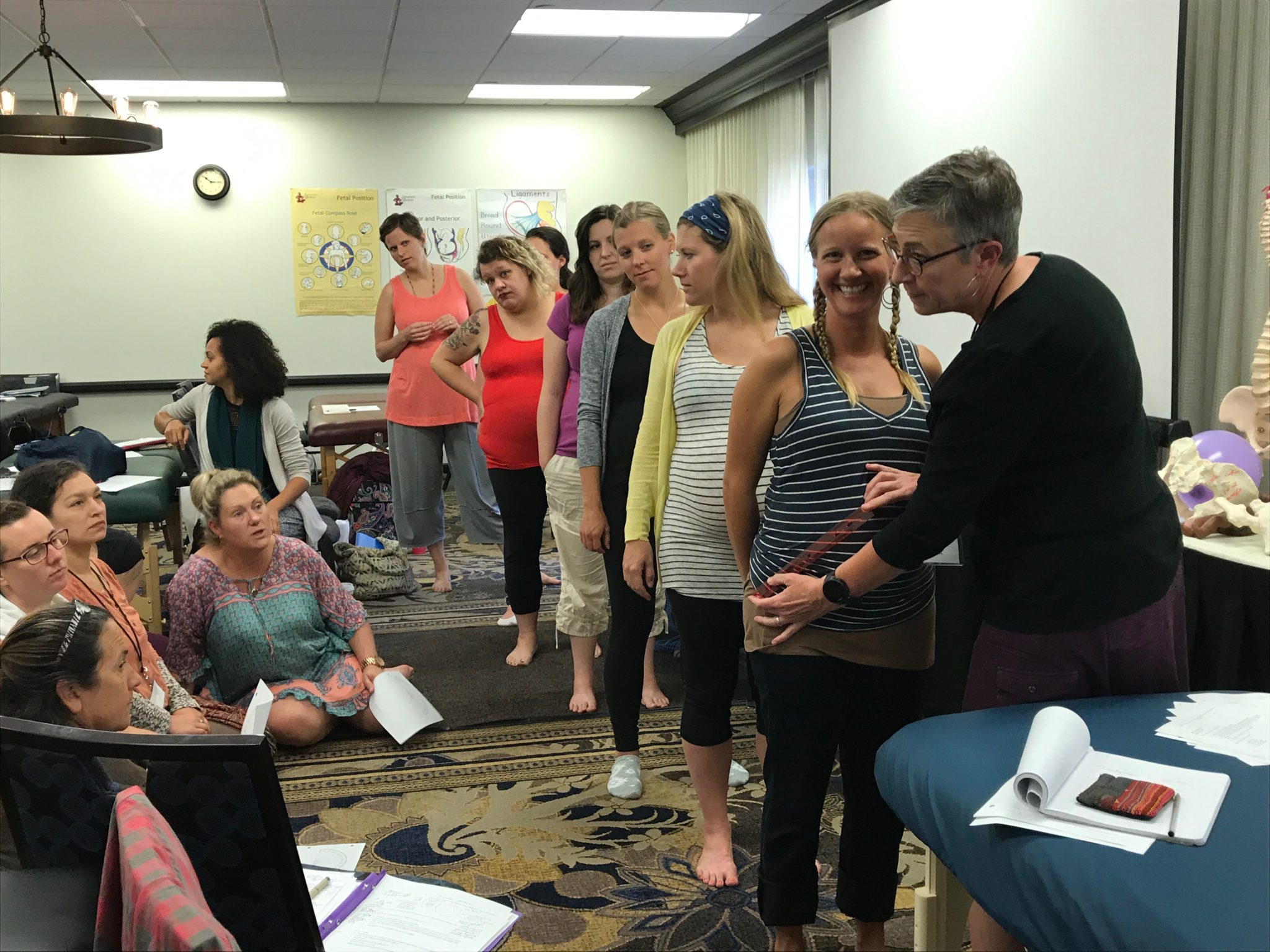 Infuse Your Practice
Join all of us to learn, grow, gain confidence, and learn how to design your own practices within your specialty consistent with the exciting new paradigm Spinning Babies is bringing forth in the world. Unique in bodywork trainings. Infuse your practice protocols with the Spinning Babies approach to pregnancy and birth.
Pre-requisites for Spinning Babies® Aware Practitioners
Successful completion of pre-requisites will make the participant eligible to apply for membership on a list of Spinning Babies® Aware Practitioners:
* Attendance of two, separate full-day (7 CEU hours) Spinning Babies Workshops
One of the Spinning Babies Workshop participation was within 2 years of ITB workshop
Successful Completion of the 4-day ITB workshop
Two professional and one client reference
Code of ethics and scope of practice agreement
Annual renewal of Spinning Babies® membership listing
This workshop is designed for Birth and Body Workers. Midwives, doctors, nurses, doulas, massage therapists, chiropractors, craniosacral therapists. 
Integral Touch of Birth Philosophy
Throughout the 4-day workshop we bring together the knowledge of global touch with the specificity of anatomical precision, and move back into the global picture of health and balance of the parent and baby.  Deb, Marcello, and Adrienne work together to blend their unique skill sets into a usable and fully integrated application for those providing care to the pregnant population.  You will go on a journey through the depths of self-examination as a practitioner, bringing your best self out into your hands and assessment skills, finding the global rhythm of the body, honing into the specific imbalance, and blending it all together to provide a holistic level of care to your clients.
MAP for Better BirthTM
We know that babies accommodate the space available to them. MAPTM is a powerful, yet simple, 4-point evaluation protocol designed to be incorporate into every prenatal visit without adding more time to the visit.  MAP will allow you to identify structural patterns in mothers that might indicate a likelihood for a fetal position issue later in pregnancy or labor. Frequent and consistent assessment will pay off with fewer fetal malposition issues at birth and less pregnancy related pain for mothers during pregnancy. (Developed by midwife and craniosacral therapist Debra McLaughlin.)
Integral Touch of Birth: Hands-on Experience
The hands-on experience of integral touch of birth is varied and unique.  Participants travel into their meditative mind and bring that peace and balance into their hands through the teachings of Fasciatherapie DBM presented by Marcello Windolph.  He gently guides each participant to feel deep levels of fascial movement that reset the body into a deep balance.  
Debra McLaughlin presents the efficiency of her MAP for Better BirthTM  protocol complete with corrections for dysfunctions found in the assessment process.  Her hands-on approach engages the gentle and powerful Craniosacral therapy tools that create change in the profound depths of the central nervous system.  
Adrienne Caldwell guides students into the realm of detail through 3-dimensional anatomy.  Each participant has the opportunity to experience the global changes that occur with the release of specific structures in the pelvis, and how this can affect the position of baby in utero.
Together, the three instructors, blend their skills into well integrated days of hands-on course work that create confidence for the provider to begin using their new tools immediately.
What attendees of the first
Integral Touch of Birth
Workshop in July 2017 said about their experience:
"THANK YOU for this amazing learning opportunity to learn about how to take care of myself as well as how to be more present with patients."
"I really enjoyed that we rotated between teachers and material. It encouraged us to begin the integration right away. Work with it not only here, but in our lives, which allows for an easier transition "back into the world" because we have already been integrating it all in. Sometimes at workshops you are not able to practice integrations until it's after the workshop which can sometimes be a crash. I feel well prepared to keep integrating with ease."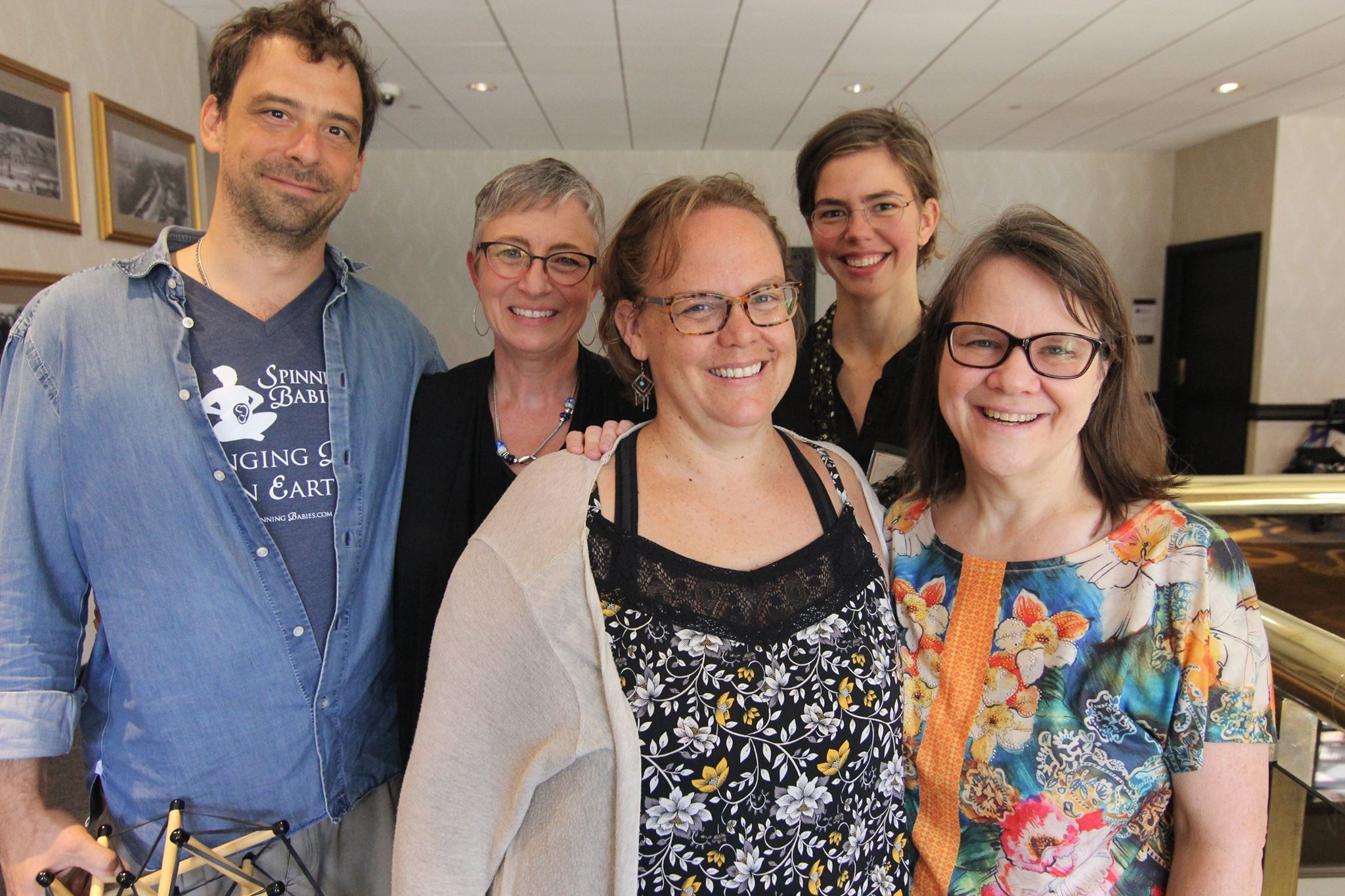 "I loved it all. It really put the fire for bodywork again. Thank you."
"Outstanding week. Delivered more than expected."
How might your experience taking Integral Touch of Birth change work or relationship with your clients?
I feel I have many more tools to encourage clients to trust their physiology, their body's ability and process. Being in silence with myself, clients, and others.
I will not touch my clients (or anyone) in the same way again after experiencing Marcello's fascial approach.
"I feel more aware of the restrictive structures in the pelvis – how to assess and how to treat. Very valuable."
Working from a more internal place, and allowing the body to come into my hands, enhancing life vs. working on the sluggish parts.
SLOW. I need to give digestible morsels of info to my clients. I want to share all info immediately. This could help me build a stronger more present relationship.
Greater confidence in my intuition as a practitioner and more tools to use alongside my existing practice.
A note to the wonderful professionals who joined us in July of 2017:
"We are so grateful to the professionals who attended our first Integral Touch of Birth Workshop in July of 2017. Their commitment, engagement, and generosity in providing constructive feedback was more than we could have ever hoped. Please know that your suggestions, constructive criticism, and praise has been taken very seriously. Your contributions will continue to make what we do better as we go forward. We are indebted to each and every one of you. Thank you."
Deb, Adrienne, Marcello
Continuing Education Credits / Professional Development Documentation
Integral Touch of Birth has been awarded continuing education credits (CEUs).
Northern Lights Wellness Craniosacral Therapy, LLC is the organization offering the NCBTMB CEUs for massage therapists through their NCBTMB Provider status, #1461.
Minnesota Chiropractic Board of Examiners has approved the course for 30 contact hours for Minnesota Chiropractors.
Spinning Babies® Workshop has been approved for .7CEUs (7 contact hours) by the American College of Nurse Midwives.
*Most doula organizations will accept these CEUs because the course is on pregnancy. We explain how to integrate this information in a doula scope of practice. Doulas will not be encouraged to work outside the doula scope of practice of their organizations.
*Among midwives, CPMs can likely use these CEUs. CNMs can only use the .7 CEUs (7 contact hours) for Spinning Babies® Workshop.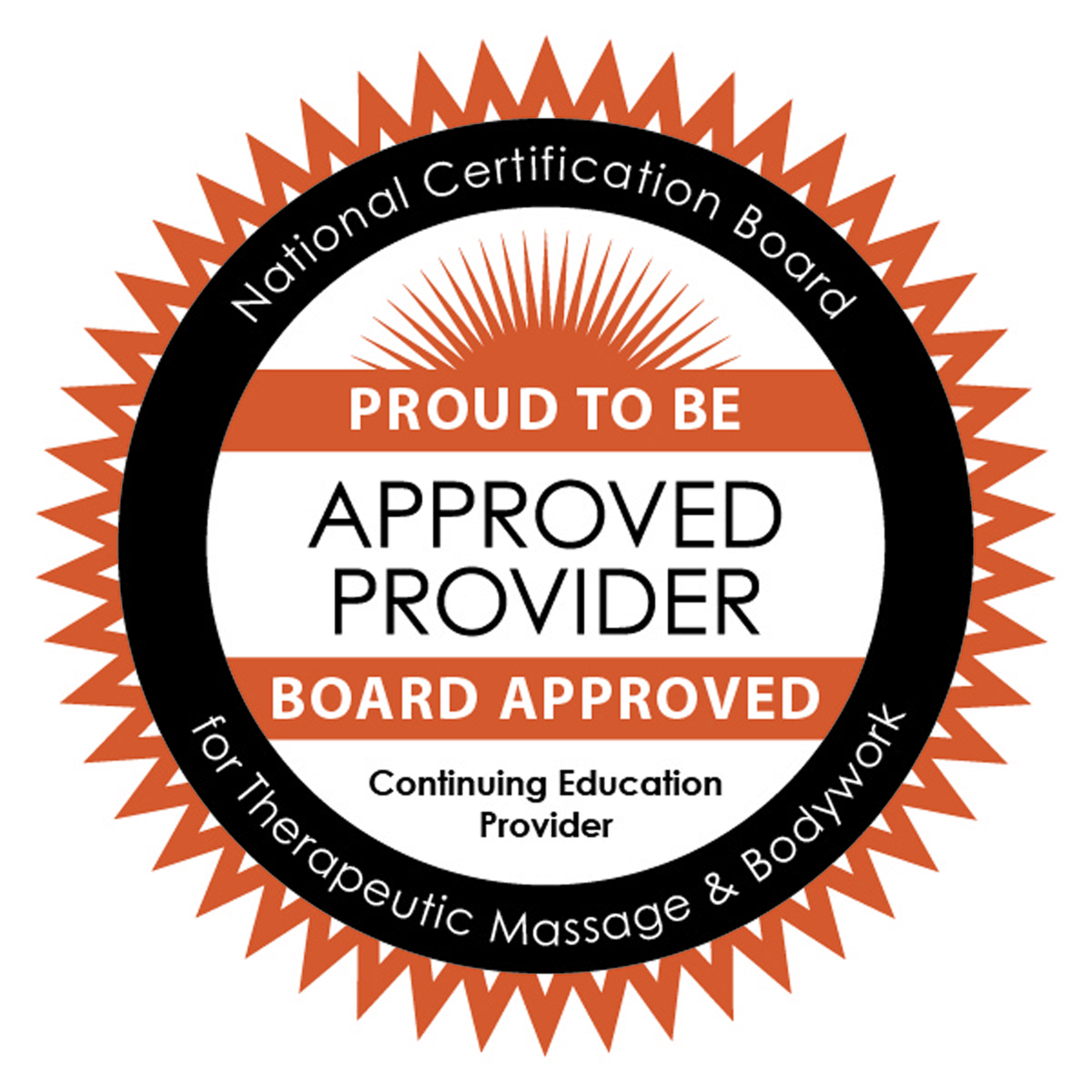 Notes from the instructors:
1. Preparation work is required prior to attendance.

You will receive reading materials, anatomy reviews, and a list of materials that you will need to gather prior to the workshop to help prepare the group and make our time together efficient. Please make time during the four weeks prior to the workshop to do the reading and gather materials you will need together.
2. Because CEU hours will be awarded, and this workshop is a major part of the qualification for SpB Aware Practitioner status:
Evaluation of students' understanding of the material will be assessed via a written test and hands-on observation by the instructors.

Attendance Policy

will be strictly enforced. Please be aware that you must attend the full workshop to receive credit.
3. Attendance Policy

Participants are expected to attend the entire workshop.  If there is a family emergency or life emergency, a student may be excused early.  If a student misses 2 hours or less of the workshop, an assignment will be provided by the instructor(s) to make up the time missed.  (NOTE: student will also be responsible to pay a $100 fee to cover administrative and instructor time.) This assignment must be turned in 3 months, at the latest, once it is received by the participant.  The participant is responsible for completing all aspects of the assignment in order to receive full credit for the time missed.  Partial credit will not be assigned.  Once the assignment is received and reviewed by the instructor(s), the student will receive their certificate of completion for the workshop.

If a student misses more than 2 hours of the workshop, they may do the assignment to make up the missed 2 hours, but will not be able to make up additional time.  The only exception to this policy is an emergency situation – this means severe illness, hospitalization, etc. The participant will not be able to make up the time missed beyond 2 hours, and will only receive the number of continuing education units attended.   This policy is not negotiable.
4. Electronics/photo/video policy:
We request that electronic devices not be brought in the classroom.
No video or photos will be allowed without the permission of all the instructors.
We ask that you check your phone during break times. (If you must have your phone with you in the classroom we ask that you be respectful of your fellow classmates and instructors by only using if absolutely necessary.)
Please be sure to bring a notebook and pen/pencil for note taking. (Please do not plan to use electronic devices for note taking.)
5. Private sessions with individual instructors:
Would you like private time with one of the instructors? Private sessions are available for an additional fee on the day following your workshop with Debra McLaughlin, Marcello Windolph, or Adrienne Caldwell. You can schedule an hour time slot for private time for your own personal experience with bodywork, getting your private questions answered, etc. You can schedule up to 2-months prior to the workshop at:

https://www.appointment.com/northernlightswellness

. Choose your date, time, and instructor. (Please note: Be sure to plan your travel accordingly if you wish to take advantage of this opportunity. Unfortunately the instructors will not be offering sessions on the workshop days.)