Spinning Babies® Certified Parent Educator Training
Childbirth educators or registered RYPT prenatal yoga instructors (200 hours) can become certified to teach the Spinning Babies® Parent Class to pregnant parents.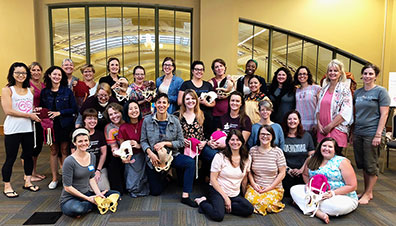 The Netherlands
April 15 – 18
Toronto, Canada
July 20 – 23
When certified, you will be able to teach a 3-hour Spinning Babies® Parent Class module to pregnant parents.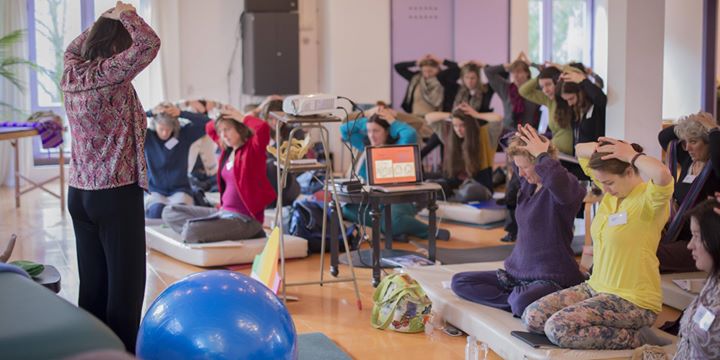 "Why do I love teaching Spinning Babies® Parent Classes so much?! Because it works! The stories I hear or have the opportunity to witness – successful VBACs, challenging births helped along by Spinning Babies techniques, more comfortable pregnancies through daily essential practice and implementation of the Three Sisters of Balance… this tangible, practical, useful knowledge that connects women and partners to their babies and bodies… It's exciting! I love sharing it and want all expecting parents to have these tools!"
Shanna Baker Switzer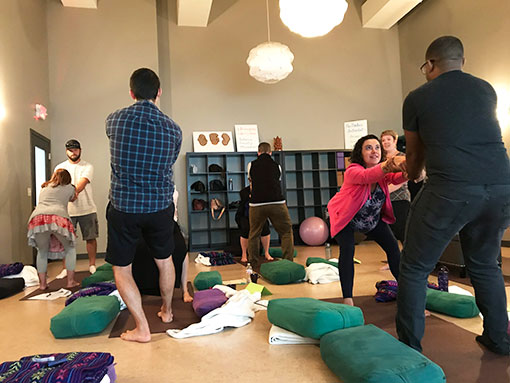 Earn exclusive access, included in cost:
4-day 

In-person training, plus

Teacher Manual

Listed and linked on www.SpinningBabies.com
Logo powered promotional materials
Special Logo for Certified Parent Educator's website
Licensed slideshow
Parent eBook and downloads
Mentoring webinars
Opportunity to earn sales commission in affiliate program
"Wow! I'm still processing all of the information Gail Tully and Jennifer Walker shared with us. It was a day filled with magic and passing of wisdom. I'm so excited to share this knowledge with my clients & experience how these techniques work in the birth room!"
Christine Michelle
"It is such an honor & privilege to be a Spinning Babies® Certified Parent Educator, improving pregnancy and birth experiences for parents in our local community… Gail Tully has created a program that really works!"
Amaris Garcia
"There are no words. I just can't put into words what this weekend is doing and has already given to me. I'm so very thankful to be a part of a group of women who understand birth and are willing to share. Just in awe."
Traci Weafer
"I'm absolutely loving my Spinning Babies® Certified Parent Educator Training in St. Paul, Minnesota. I've met so many amazing birth workers from all over the world and we're all here learning such inspiring, amazing, birth-changing education."
Shanna Baker Switzer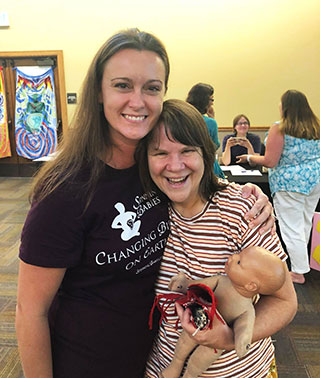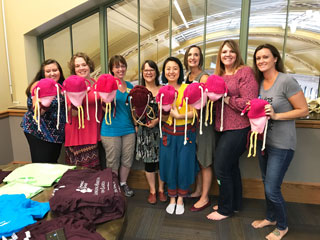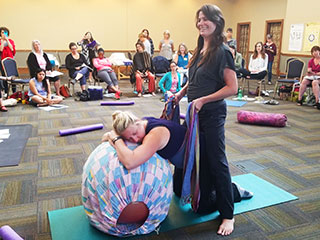 Do you qualify to become a Spinning Babies® Certified Parent Educator?
There are two paths to qualify.
Please review requirements before registering. Have your documents ready to upload.
Open to Certified Childbirth Educators, Registered Prenatal Yoga instructors (200 hours) and non-certified childbirth educators who have taught at least five childbirth education classes.
There are two paths to qualify.
Path One
Certified Childbirth Educator
Registered Prenatal Yoga Instructor (200-hour plus 200-hours prenatal)
Action:  Upload a scan or photo of your Certificate.
Path Two
NON CERTIFIED or NOT CURRENTLY CERTIFIED
Action: A non-certified childbirth educator may prove competency by showing
Proof of 5 group classes. Proof can be a letter from a supervisor validating that you have taught 5 classes as a childbirth educator at their hospital, yoga center, agency or business; or a dated class list and curriculum.

A letter from a Spinning Babies

®

Certified Parent Educator

Image of certificate expired within 2 years of active certification. If longer than 2-years, provide proof of 5 group classes in the previous 2 years.
What is not acceptable as validation:
A website or social media page

A colleague's letter who is not one of the above.

Education for clients within the practice of a midwife or chiropractor
Scholarship opportunity for a qualifying Childbirth Educator of Color
Who is not eligible to take this training?
A midwife, chiropractor or other professional who teaches client workshops but not comprehensive childbirth education
A doula who hasn't taught at least 5 group childbirth education classes
A nurse who hasn't taught at least 5 group childbirth education classes
Midwives, Nurses, and bodyworkers may be eligible to take a Spinning Babies® Aware Practitioner Approved Workshop.
Prerequisites for Certified Parent Educators
Spinning Babies® Workshop
One Spinning Babies

®

Workshop must be completed before applying.

It must be within three calendar years of the SpBCPE Training.
Examples of workshops that qualify as perquisite:
1-day Spinning Babies® Workshop

One 1-day Spinning Babies® Integration workshop

2-day Spinning Babies® Workshop
Not accepted: a shorter workshop or conference presentation
List of Approved Childbirth Education Certifications
Academy of Certified Birth Educators
Active Birth
BIA Doula
Birth Arts International
Birth Boot Camp
Birthing From Within
BirthWorks
BACE Certified Childbirth Educator (BCCE) Childbirth and Postpartum
Bradley Method® Husband Coached Childbirth
Professional Association (CAPPA) Childbirth International
Childbirth And Parenting Educators of Australia (CAPEA)
Douglas College Childbirth Educators Training Program
GentleBirth
Hypnobabies
HypnoBirthing (attach the additional Birth Basics component to be eligible)
Informed Beginnings
International Childbirth Education Association (ICEA)
Istanbul Doğum Akademisi (Istanbul Birth Academy)
JJWay Childbirth Educator Course 1240
Lamaze Certified Childbirth Educator (LCCE)
National Childbirth Trust NCT Preparation for Birth and Beyond
Prepared Childbirth Educators, Inc.
The Leclaire Method – Mindful Pregnancy to Labor
Did we miss a wonderful, comprehensive childbirth education program? Send us an email!
Which programs are not eligible as a pre-requisite?
Evidence Based Birth (highly recommended, but not a CBE program)

HypnoBirthing without Birth Basics addition

Online only childbirth education training
Remember, you can use the Non Certified Childbirth Educator pathway
Once you are fully registered for the Spinning Babies® Certified Parent Educator Training there are several steps to complete before the in-person training.  Allow time to complete steps.
What support does Spinning Babies give their Certified Parent Educator's?
Your photo and link on www.SpinningBabies.com

Special badge for Certified Parent Educator's website

Licensed slideshow

Parent eBook and downloads

Affiliate program with special percentage
How to become certified/recertified as a Spinning Babies® Parent Educator.
Early Bird tickets are limited and sell quickly — Save $100 by registering today!
Step 1. Fill out the 10 question form at this link which includes uploading your document that proves you are certified as a childbirth educator, or prenatal yoga instructor, or providing the proof that you have taught 5 group childbirth education classes if you are not certified.
Step 2. We will review your application and upon acceptance, you will be sent the link to register for the training.
Step 3. Receive and sign the Parent Educator agreement with Spinning Babies®.
All steps are necessary to complete registration.
Please, make sure you have read about the certification process before applying and registering.