Class Info & Applications
Spinning Babies

®

Certified Parent Educator Training
Childbirth educators or registered RYPT prenatal yoga instructors can become certified to teach the Spinning Babies® Parent Class to pregnant parents.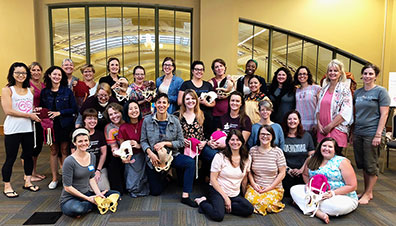 Austin, USA
May 13 – 16, 2020
Rishon LeZion, Israel
May 18-21, 2020
Boston, USA
July 28 – 31, 2020
Caloundra, Australia
Oct. 20 – 23, 2020
Class Info & Applications
When certified, you will be able to teach a 3-hour Spinning Babies® Parent Class module to pregnant parents.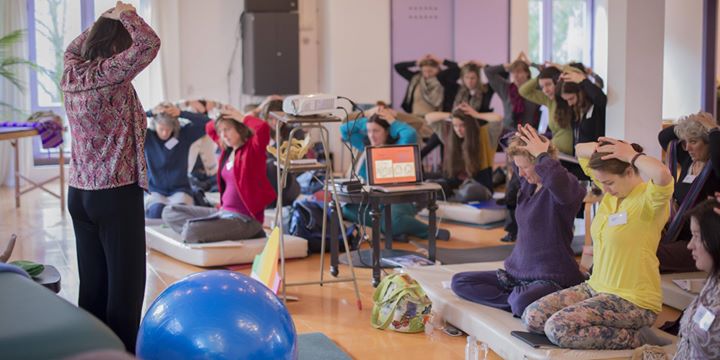 "Why do I love teaching Spinning Babies® Parent Classes so much?! Because it works! The stories I hear or have the opportunity to witness – successful VBACs, challenging births helped along by Spinning Babies techniques, more comfortable pregnancies through Daily Essential practice and implementation of the Three Sisters of Balance… this tangible, practical, useful knowledge that connects women and partners to their babies and bodies… It's exciting! I love sharing it and want all expecting parents to have these tools!"
Shanna Baker Switzer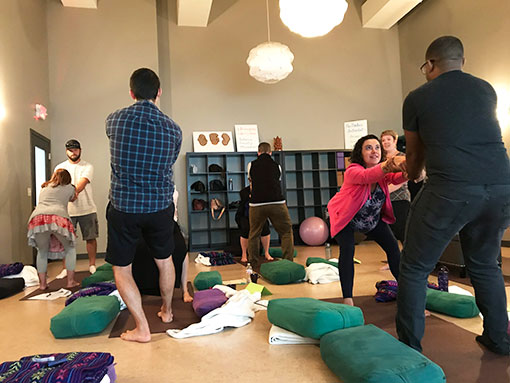 Earn exclusive access:
4-day In-person training, plus
Extensive Teacher Manual
Listing on www.SpinningBabies.com
Certified Parent Educator's own logo
Parent materials
Mentoring webinars
Affiliate program sales commission
What attendees said about their experience:
"This training gave me the knowledge and confidence to be able to help and empower parents through their pregnancy and birthing experience. I now have a deeper understanding of the techniques and how to properly teach/apply them… I felt very supported throughout. It was also wonderful to meet such a great group of people and be able to network."
Maria T.
"I love the philosophy of Spinning Babies®. It's clear and useful. It's all about the body without ignoring the mindset of the mother."
Nienke V.
"This training was one of the greatest experiences of my life… It was nice to meet like-minded people from all over the world and share our stories. I feel so connected and supported. I'm motivated to start my Parent Classes and I look forward to help parents on their way to a comfortable pregnancy and an easier birth."
Hanne B.
"It opened a world of possibilities that I can use to improve my work."
Maria S.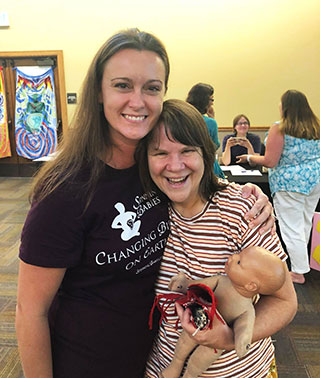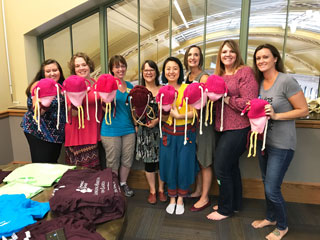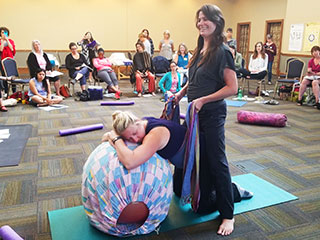 What Spinning Babies® Parent Class attendees taught by our Spinning Babies® Certified Parent Educators said about the class:
"Spinning Babies® Parent Class was quite a pleasant surprise. I thought I knew quite a bit about my body, I do yoga most days, walk, swim, I look after myself, but this class takes things even to a new level. [My Spinning Babies® Certified Parent Educator] helped me use these amazing poses when I was in labour and this led to the midwives being quite comfortable with my progress and I had a completely intervention free birth. I did everything my way and just knowing how and why to do some moves made total sense. This is great information to know."
Carrie
"My body was not coping with pregnancy very well, but after learning Sidelying Release that changed so much. I totally credit these things to the [Spinning Babies® Parent Class]…"
Alicia
"Being pregnant a third time and having had two really tough and long births previously, I really really wanted a different experience… I opted for Spinning Babies® Parent Class. I learnt so much, used all the information and I had the most amazing pregnancy, labour and birth. The daily essential exercises every day along with yoga twice a week and using the rebozo method, this all really made things much more comfortable. My birth was incredible."
Jayne
"The techniques that were taught helped not only in labour but also leading up to labour for that last trimester discomfort. Throughout my pregnancy, I discovered what round ligament pain was and the techniques I learnt in class with [my Spinning Babies® Certified Parent Educator] were pure relief. Spinning Babies® Parent Class all the way!"
Nadine
Do you qualify to become a Spinning Babies® Certified Parent Educator?
There are two ways to qualify.
Please review requirements before registering. Have your documents ready to upload.
Open to Certified Childbirth Educators, Registered Prenatal Yoga instructors (200 hours), and non-certified childbirth educators who have taught at least five childbirth education classes.
There are two paths to qualify:
Path One
CERTIFIED CHILDBIRTH EDUCATOR

Or are a Registered Prenatal Yoga Instructor (200-hour plus 85-hours prenatal)
Action: Upload a scan or photo of your Certificate.
Path Two
2. NON CERTIFIED, NOT CURRENTLY CERTIFIED CHILDBIRTH EDUCATOR or NOT on our list below
Action: A non-certified childbirth educator, or a childbirth educator from an organization which is not on our list of approved childbirth education organizations, may prove competency by uploading
a.) Show that you've taught 5 group classes. This may be a letter from a supervisor validating that you have taught 5 classes as a childbirth educator at their hospital, yoga center, agency or business.
b.) A letter from a Spinning Babies® Certified Parent Educator who can affirm they know you have done the steps above in "a.)" above.
c.) Image of certificate expired within 2 years of active certification. If longer than 2-years, provide proof of 5 group classes as listed in "a.)" above.
What is not acceptable as validation:
A website or social media page

A colleague's letter who is not one of the above.

Education for clients within the practice of a midwife or chiropractor
Who is not eligible to take this training?
Someone who is not a childbirth educator

A doula who hasn't taught at least 5 group childbirth education classes

A nurse who hasn't taught at least 5 group childbirth education classes

A midwife, chiropractor or other professional who teaches client workshops but not comprehensive childbirth education.

Midwives, Nurses, and bodyworkers may want to take a Spinning Babies® Aware Practitioner Workshop or approved substitute.
Prerequisites for Certified Parent Educators
Spinning Babies® Workshop
One Spinning Babies

®

Workshop must be completed before applying.

It must be between 3 months and 3 calendar years before the SpBCPE Training.
Spinning Babies® Workshop comes in three varieties:
1-day Spinning Babies® Workshop

One 1-day Spinning Babies® Integration workshop

2-day Spinning Babies® Workshop
Not accepted: Labor and Birth with Spinning Babies®, or a shorter workshop or conference presentation
List of Approved Childbirth Education Certifications
Academy of Certified Birth Educators
Active Birth
Birth Arts International
Birth Boot Camp
Birthing From Within
BirthWorks
BACE Certified Childbirth Educator (BCCE) Childbirth and Postpartum
Bradley Method® Husband Coached Childbirth
Childbirth

and Postpartum

Professional Association (CAPPA)
Childbirth International (CBI)
Childbirth And Parenting Educators of Australia (CAPEA)
Douglas College Childbirth Educators Training Program
GentleBirth
Hypnobabies
HypnoBirthing International (Marie Mongan Method, Birth Basics component)
Informed Beginnings
International Childbirth Education Association (ICEA)
Istanbul Doğum Akademisi (Istanbul Birth Academy)

JJWay Childbirth Educator Course 1240

Lamaze Certified Childbirth Educator (LCCE)

National Childbirth Trust NCT Preparation for Birth and Beyond

Prepared Childbirth Educators, Inc.

The Leclaire Method – Mindful Pregnancy to Labor
Did we miss a wonderful, comprehensive childbirth education program? Send us an email at info@spinningbabies.com!
Which programs are not eligible as a pre-requisite?
Evidence Based Birth (highly recommended, but must add a CBE program)

HypnoBirthing without Birth Basics addition
Remember, if you teach group classes, you can use the Non Certified Childbirth Educator pathway.

Once you are fully registered for the Spinning Babies® Certified Parent Educator Training there are several steps to complete before the in-person training. Allow time to complete steps.
What support does Spinning Babies give their Certified Parent Educator's?
Your photo and link on www.SpinningBabies.com

Special badge for Certified Parent Educator's website

Licensed slideshow

Parent eBook and downloads

Affiliate program with special percentage
How to become certified/recertified as a Spinning Babies® Parent Educator.
We offer scholarships for childbirth educators of color.
You will receive a link to apply in your Application Acceptance email. You do not have to pay to apply. Scholarship application deadline is 2 months before the training date.
Early Bird tickets are limited and sell quickly — Save $100 by registering today!
Step 1. Fill out the 10 question form at this link which includes uploading your document that proves you are certified as a childbirth educator, or prenatal yoga instructor, or providing the proof that you have taught 5 group childbirth education classes if you are not certified.
Step 2. We will review your application and upon acceptance, you will be sent the link to register for the training.
Step 3. Receive and sign the Parent Educator agreement with Spinning Babies®.
All steps are necessary to complete registration.
*Please note all CPE Trainings and materials are currently only available in English and Portuguese. Parent Educators are allowed to teach verbally in another language, but only handouts in our officially translated languages can be distributed.
Please, make sure you have read about the certification process before applying and registering.
You will need to enter your email address for this application.  Please use a permanent email address that you would like to use for your application, registration, certification, email communications, purchases and re-certification with Spinning Babies.
Class Info & Applications
Class Info & Applications