Spinning Babies® Certified Parent Educator Training
 Childbirth Educators, Certified Birth Doula whose training involved a a childbirth component, and registered RYPT prenatal yoga instructors can now become certified to teach Spinning Babies to pregnant parents.
Spinning Babies preparation and labor progress positions may transform your students' birth experiences.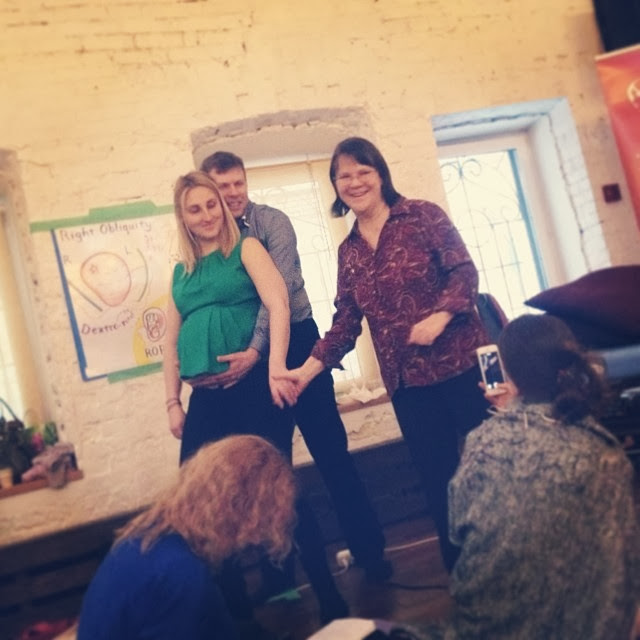 St. Paul, MN USA
April 13 – 15 or July 20 – 22
Prerequisite Spinning Babies® Workshop April 12 in same venue
São Paulo, Brazil
Sept. 10 – 12
Prerequisite Spinning Babies® Workshop Sept. 5 and 6th at SIA Parto + Spinning Babies® Conference
Boston, MA USA
Oct. 26 – 28
Prerequisite Spinning Babies® Workshop Oct. 25 in same venue
Europe (City TBA)
November
Prerequisite Spinning Babies® Workshop  in same venue the day immediately before the training
Now accepting registrations for April 13 – 15 and
July 20 – 22, 2018 trainings in St. Paul, Minnesota.
Please review requirements before registering. Have your documents ready as pdf.s to upload.
Accurately and effectively teach the Spinning Babies® Parent Class to your students
When certified, you will be able to teach Spinning Babies® to pregnant parents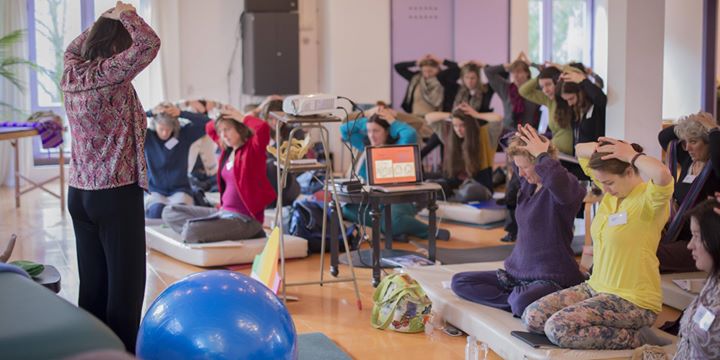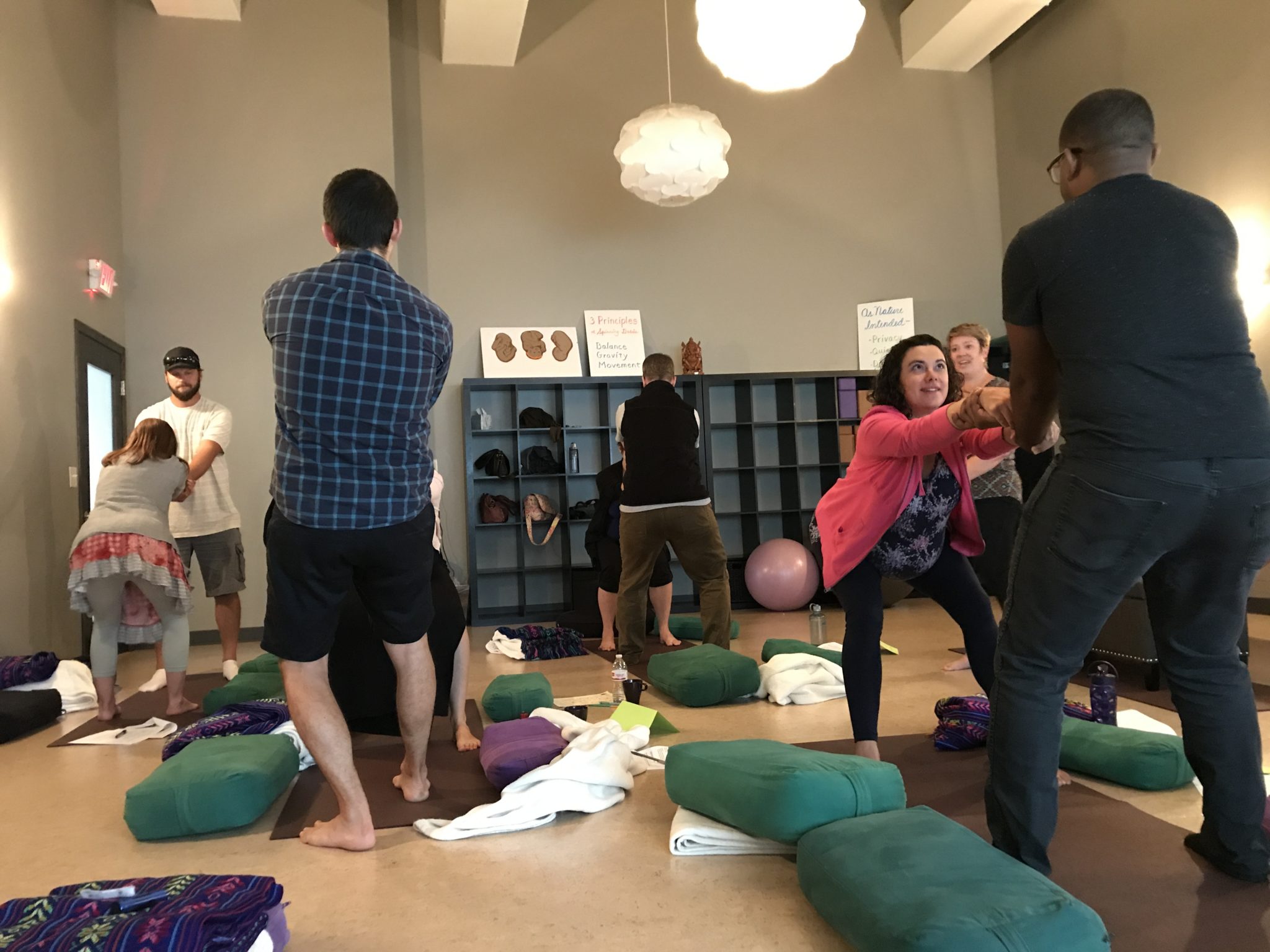 Spinning Babies® Certified Parent Educator Training:

Three-day, in-person training, plus

Live Welcome Webinar, plus

Streaming video of "Spinning Babies; Parent Class"


Test yourself with the

"Spinning Babies; Parent Class" video

Teacher Manual
Earn exclusive access, included in cost:
Listed and linked on www.SpinningBabies.com

Logo powered promotional materials


Special Logo for Certified Parent Educator's website

Licensed slideshow


Parent eBook and downloads

Four mentoring webinars

Affiliate program

with special percentage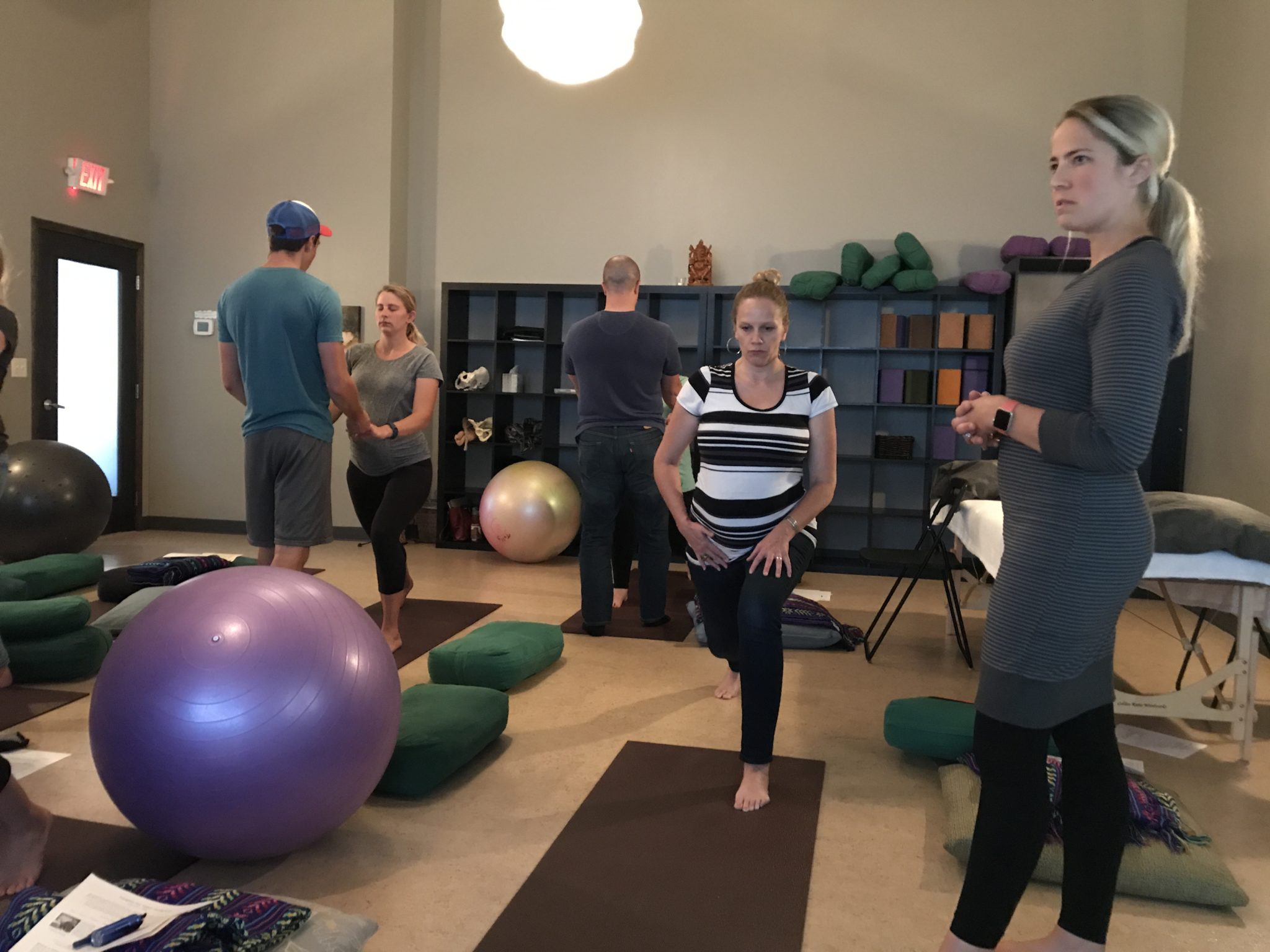 Do you qualify to become a Spinning Babies® Certified Parent Educator?
There are two paths to qualify.
1. CERTIFIED Childbirth Educators, Doulas and Prenatal Yoga Instructors, or (see #2)
    A. Certified Childbirth Educator – see list of approved CBE Certifications at bottom of page
    B. Certified Doula – training must have had strong childbirth ed component such as DONA, CBI & CAPPA.
    C. Registered RYPT Prenatal Yoga Instructor
If you are certified you only need one document when you register – Upload a scan or photo of your Certificate from one of these certifying bodies. That's it – simply upload and then register.
2. NON CERTIFIED Childbirth Educators
    Show adequate experience instead of certification
Resume: Upload resume including your birth education experience and birth related education.

Show a certain way that you teach classes. This might be one of the following three options.
a.  Past certification with a listed organization. Upload a jpg or pdf file with image of certificate.
b.  A brief letter from a supervisor validating that you have taught classes as a childbirth educator at their hospital, yoga center, agency or business.
c.  If you can show me how you are teaching parents in another way, you can propose that method and I'll consider accepting it.
What is not accepted: a website or social media page without further clarity that you are teaching classes or one-to-one sessions.
I would recommend that midwives who don't teach classes or Centering Pregnancy, please look to the Spinning Babies® Aware Practitioner Workshops and follow that course to get listed and skills that will be valuable for the type of prenatal education given in the prenatal appointment. Doulas may also join bodyworkers in those trainings.
Prerequisites
Two full-day Spinning Babies® Workshops

We ask you take two of our workshops before coming to let the paradigm and the explanations settle and weave into your work.  One of these can be taken the day immediately before the SpBCPE Training offered in the same venue. See registration for details. *Note – any Spinning Babies Aware Practitioner on our listing has their two workshops.

One Spinning Babies® Workshop must be completed before applying.
The second workshop

can

be the Spinning Babies

®

Workshop taken the day before our 3-day training.

One must be within three calendar years of the SpBCPE Training. (2015 or later for 2018 workshops)

Prerequisite Spinning Babies® Workshop will be held either the day before or soon before at or near the training venue (Sept. 5 or 6th In Sao Paulo, Brazil)
Examples of workshop combinations of 2 workshops that qualify:
Two 1-day Spinning Babies

®

Workshops

One 1-day Spinning Babies® Workshop and one Spinning Babies® Integration workshop

One 1-day Spinning Babies

®

Workshop & one 2-day Spinning Babies

®

Workshop

Two 2-day Spinning Babies

®

Workshops

Not accepted; a shorter workshop or conference presentation
*Approved Childbirth Education Certifications:
Active Birth
Birth Arts International
Birth Boot Camp
Birthing From Within
BirthWorks
BACE Certified Childbirth Educator (BCCE) Childbirth and Postpartum
Bradley Method® Husband Coached Childbirth
Professional Association (CAPPA) Childbirth International
Childbirth And Parenting Educators of Australia (CAPEA)
Douglas College Childbirth Educators Training Program
GentleBirth
Hypnobabies
HypnoBirthing (only with additional Birth Basics component)
Informed Beginnings
International Childbirth Education Association (ICEA)
Istanbul Doğum Akademisi (Istanbul Birth Academy)
JJWay Childbirth Educator Course 1240
Lamaze Certified Childbirth Educator (LCCE)
National Childbirth Trust NCT Preparation for Birth and Beyond
Prepared Childbirth Educators, Inc.
The Bradley Method
The Leclaire Method – Mindful Pregnancy
toLabor
Doula certification from other than DONA or
Childbirth International
Did we miss a wonderful, comprehensive childbirth education program? Send us an email!
Not approved without proof from path 2:
Evidence Based Childbirth (a great program, for sure, Highly Recommended, but not a CBE program)
Test and Scope
Once you are registered for the Spinning Babies® Certified Parent Education Training view our Parent Class video while you answer the test questions.We will include the video download when you are fully registered. The cost is included in registration.

Pass a test covering the Spinning Babies

®

Parent Class video (stream or download included in registration)

Sign the Code of Ethics and Scope of Practice agreement
To be certified as a Spinning Babies® Parent Educator:
Complete two Spinning Babies® Workshops
Take the SpBCPE Training
Attend all three days completely


Provide to the Spinning Babies Office the following:

Your name, dates and locations of your first three classes

Signed attendance sheets from each class

Completed evaluations (provided in training) from your participants
Complete evals within two years of the training.
Mailing option:  Combine all evals from all three class in one large envelope and mail to Spinning Babies.
Email option: Combine all evals from each class as a single pdf.
Digital: We provide a google form for online submission of evaluations (Preferred).
Maintain Your Certification and Listing On Spinning Babies Website

Join in on any or all of the 4 mentoring-style webinars throughout the first year of your teaching

Use Spinning Babies® brand and teaching agreements fairly and correctly

Renew your certification as a Spinning Babies® Certified Parent Educator (SpBCPE) each year. Annual $100 USD fee includes a Spinning Babies® Certified Parent Educator online continuing education course with continuing education credit (CEUs).