St. Peter, MN Spinning Babies w/ Gail Tully & Tammy Ryan
May 3 @ 9:00 am

-

5:30 pm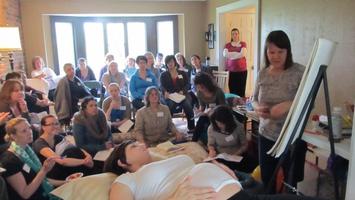 Spinning Babies workshop with Gail Tully & Tammy Ryan!
Can you spot a long labor before it begins? Use the 3 Principles of Spinning Babies and the 3 levels of the pelvis to match solutions and reduce cesareans. Pregnancy protocols for your prenatal visits.   
Compare anterior and posterior fetal positions, flexion and engagement and learn to recognize a stall in labor progress quickly and resolve it gently.  Is it CPD or does she need more time?
Yes, the workshop is different than the website.
Date: May 3, 2017
Time: 9:00am – 5:30pm Sign In at 8:40 am. Lunch from 12-1. Lunch not provided – please bring food or grab lunch out during break.
Location: St. Peter, MN at St. Peter Yoga
Hostess/Contact Person: Stephanie Holthus, stephanie@greenstorkmn.com
$175. w/online registration before March. 1st
$195. w/online registration March 1st-May 1st
$220. at the door, cash or credit only. (no checks)
CEUs: 7 Contact hours .7 MEAC CEUs. This workshop is awarded .7 CEUs from American College of Nurse Midwifery (ACNM), 7 contact hours. Doulas may use the certificate of attendance to obtain contact hours. Attendance does not give  rights or ability to call yourself a Spinning Babies practitioner. Please respect the no video and use photos appropriately.
Speakers:  Gail Tully is a midwife (CPM) from Minneapolis, Minnesota, USA. Author of The Belly Mapping Workbook and Resolving Shoulder Dystocia DVD. Penny Simkin and Ruth Ancheta's Labor Progress Handbook features Belly Mapping in Chapter 3. Anne Frye's Holistic Midwifery, Vol 2, cites Gail on shoulder dystocia. Midwifery Today published Gail on Shoulder Dystocia; The basics; Belly Mapping; and Opening the Brim, Resolving Breech Obstruction. See www.SpinningBabies.com for more information on Gail Tully and Spinning Babies. gail@SpinningBabies.com
Tammy Ryan is a Spinning Babies Approved Trainer, DONA approved birth doula trainer, and sales director for Mama Strut/Pelv-ICE. Tammy assists her area midwives. Tammy just finished her 4-year service as a board member for DONA International. She is an advanced doula. Tammy published articles in the International Doula magazine Sea of Color, and Third-party Reimbursement. Tammy presents regularly at Palmer Chiropractic College, DONA International, and local college womens studies, also WIC and early childhood,  to the Ministry of Health in DR Congo and in Haiti.
The tough stuff: Seating is limited. Let's all get there on time. Babies in slings or arms welcome. No children in the sessions, please.
Fine Print: No registration is complete without payment. No payment will be kept after the sessions are full.  After online Reg. ends, call hostess to see if there's room.
If you need to cancel, give your registration to another person and get payment from them, then call the hostess to give her/his name. 100% refund will be given if you need to cancel due to a birth. All birth-related cancellations must be submitted in writing via email to Gail before the workshop begins. No show, no call: no refund. Reach Gail at 612-817-3144, gail@spinningbabies.com
Related Events