Edmonton, AB, Canada- Spinning Babies® Workshop w/ Tammy Ryan – Feb 26, 2019
February 26 @ 9:00 am

-

5:00 pm

UTC-7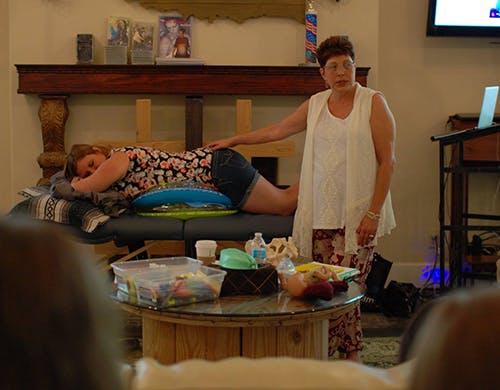 Join International birth worker, Speaker & Spinning Babies Approved Trainer Tammy Ryan for a Spinning Babies Workshop!
Understand the role of muscles and ligaments in preparation and progress in childbirth. Effects of posterior, solutions for transverse lie, and labor patterns when baby needs to rotate in the pelvis. Reduce unnecessary cesareans due to lack of progress in labor. Increase job satisfaction through learning new positioning techniques to assist all woman in birth as well as those experiencing common issues such as OP and high presenting. Charge your practice with the new paradigm in childbirth by identifying where the baby is so you can:
*Align the uterus so baby can curl and enter the pelvis as a small, compact – and more active participant.
*Release tight ligaments or muscles which may pull or twist may relieve pelvic pain now or discomfort during birth.
*Open the pelvis to let baby move down during the birth process
Workshop is open to :
Childbirth Educators
Doulas
Midwives
Labor & Delivery Nurses
Physicians
Any practitioner working with pregnant/ laboring moms (Body Workers)
CEU's:
This workshop has been approved for 7 advanced Doula Training contact hours, 7 contact hours.
Cost:
250$ Canadian until January 30, then 300$ Canadian Regular price.
Details:
Lunch Break from 12:30-1:30 pm. Coffee and tea provided. Access to a small kitchen microwave and fridge.
Please bring a pillow. If you have a rebozo please bring those also.
We will work in pairs so if you don't have the above we will put you with someone who does.
Babies in arms welcome.
Cancellation Policy:
100% if you miss for a birth, if I am contacted by 7am the day of the workshop
Email Approved Trainer Tammy Ryan at ServantHands123@aol.com
Related Events