Down to Earth Birth; Creating Amazing Space in the Pelvis
September 30, 2016 @ 9:00 am

-

October 2, 2016 @ 5:00 pm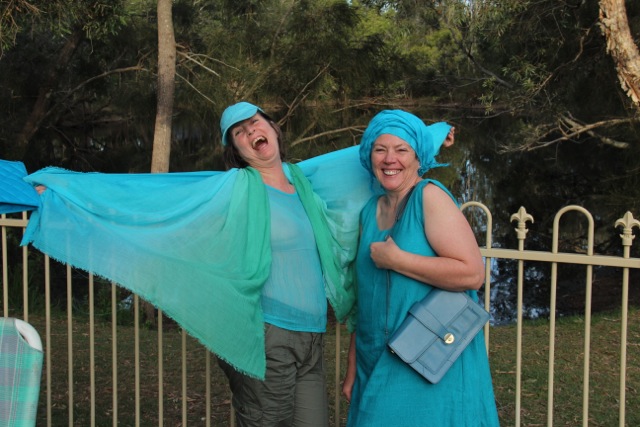 A 3-day experiential workshop for all birth and body workers, & parents-to-be
with Jenny Blyth & Fiona Hallinan from Australia! First full workshop in the USA!
Make sure to be there: https://www.eventbrite.com/e/down-to-earth-birth-making-space-for-the-baby-tickets-26065166615
VENUE: East Bay Lactation Consultants in Albany, CA See below.
Registration Cost:
Early Bird price $295. See the rest of the prices at registration page.
10% more off if you have a receipt for the Spinning Babies 2016 Confluence. Email to Gail@SpinningBabies.  com and have 10% returned from your registration payment to your credit card within a week or two.
You will gain intimacy, trust, and confidence in your birth or body work and especially in your own being.
Jenny & Fiona creatively weave complex anatomy and soft tissue knowledge into easy yet highly effective hands-on body skills. You'll enjoy their relaxed style!  Practical and do-able in any birth environment and easily passed on and shared.
This body of fundamental knowledge is missing from conventional midwifery, doula and birth education training. Whatever your background, there is always more to discover. Drop everything to attend this rare opportunity to delve deeper. You'll add unusual ways of facilitating birth and enhance your practice – and life.
Registration: https://www.eventbrite.com/e/down-to-earth-birth-making-space-for-the-baby-tickets-26065166615
Catch them before they leave North America!
Daily Schedule for the full 3-day workshop with Down to Earth Birth.
DAYS 1 & 2
Creating Amazing Space for the Baby
maximising and mobilising the pelvis
•       Feel the bony landmarks and space of the pelvis. Establish your own unique pelvic blueprint.
•       Realise your anatomical potential with the experience of dynamic anatomy.
•       Learn about where the birth hole is really located, relative to where you assume it is located.
•       Use your breath to release tension, increase circulation and optimise space in the pelvis.
•       Gain valuable insights in to the multi-dimensional, multi-textured, and multi-layered pelvic floor.
•       Learn about soft tissue connections to the cervix and sacrum and how they can help or hinder dilation.
•       Learn 3 highly effective multi-directional techniques to release tension in the pelvic floor soft tissues.
•       Practice more unique techniques to help correct the positioning and presentation of the baby and release unconscious pelvic tension in pregnancy and birth.
•       Learn new manoeuvres to facilitate the descent and rotation of the 'stuck' baby (OP, compound, big, posterior, ascynclitic).
•       Become confident in communicating about and implementing these techniques.
•       Experience the tenderness of attentive respectful touch and its many benefits.
DAY 3
Viva la Vagina!
A full discussion on Internal Vaginal Massage (not touching)
Why?
•    Release tension from the soft tissue connections in the back wall of the pelvis
•    Help resolve or heal previous birth or life trauma
•    Soften scars
•    Increase confidence and understanding of the pelvic birth space.
How? The considerations when introducing or advising women/couples about internal vaginal massage.
When? Pre-Conception, Pregnancy, Birth, Post Birth, Life
Post Birth Care
Gain deeper understanding of important strategies & considerations for optimal recovery.
Includes:
•    supporting the womb.
•    understanding the role of the uterine ligaments.
•    using the breath to assist pelvic floor recovery.
•    working with prolapse.
•    using the reboso to 'close' the mother's body.
Register now!  https://www.eventbrite.com/e/down-to-earth-birth-making-space-for-the-baby-tickets-26065166615

Event Address: 828 San Pablo Ave # 104, Albany, CA 94706
There's a peek at our friendly location here,
https://www.eastbaylactationassociates.com/services/
About the Birth Attendants Facilitating this Experience
Fiona is a mother of 2, a registered nurse, a midwife, and an independent birth educator.
Jenny is a mother of 3, grandmother of 2, independent birth worker, educator, author and film maker. Jenny will have some books and DVDs available.
Bring cash, as no checks are taken. Receipt available.
(She has several films including Birthwork – a compassionate guide to being with birth) Birthwork is not a book – can we change to:
Jenny's films & books on natural birth include The Big Stretch DVDs, Birthwork & The Down to Earth Birth Book.
For more detail visit:
www.birthwork.com
www.worldbirthhub.com
Related Events