Boston (Jamaica Plain) MA Spinning Babies Workshop with Lorenza Holt
May 21 @ 9:00 am

-

6:00 pm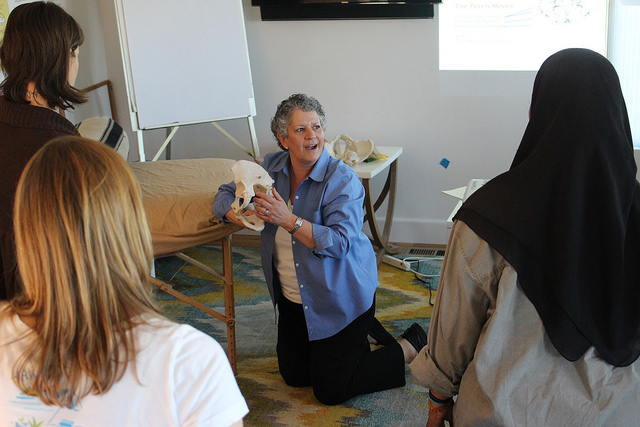 Join Spinning Babies Approved Trainer Lorenza Holt for a Spinning Babies Workshop!
The three principles of Spinning Babies are Balance, Gravity and Movement. This workshop will teach you ways to encourage and support pregnant parents in having more comfortable pregnancies and easier labors by using the Spinning Babies approach.
Spinning Babies will teach you about
• The anatomy and physiology of the pregnant uterus and the soft tissues that support the pelvic structures.
• Belly mapping is a fun and effective way that encourages parents to connect with how their babies are positioned inside them during the last weeks of pregnancy.
• Daily and weekly activities pregnant parents can practice to promote more comfort in pregnancy, overall suppleness in the pelvis, and as a result, promote easier births
• The effects of an occiput posterior labor
• Assessing what a stalled labor pattern is telling us
• What techniques we can apply to ease labor progress through the three levels of the pelvis.
Spinning Babies will help you know when to do what and why, so that you can assist a failure to progress by using techniques that can help a baby to engage, rotate and descend through the three levels of the pelvis.
Lorenza Holt is an approved Spinning Babies trainer. BACE-certified childbirth educator, DONA approved birth doula trainer and a practicing doula. She has been a birth advocate in the Boston area for over 25 years. Passionate about normal birth, Lorenza has supported hundreds of laboring women.
Continuing Education Credits
BACE-NMC: 7 Contact hours; 7 DONA International Continuing Education hours approved; DONA credits are recognized by LAMAZE and ICEA) Meets criteria of the Comm. of MA Board of Nursing regulations: (244 CMR, section 5:00) for continuing education for nursing re-licensure for 8.4 contact hours.
Cost
Non BACE-NMC member: $175
2017 BACE-NMC member: $160
2017 BACE-NMC Membership* + Registration: 190
*BACE-NMC is a 501(c)(3) non-profit organization.
Memberships are tax-deductible to the fullest extent allowed by law.
Registration link/how to register
http://conta.cc/2oJWz1w
Details
Continental breakfast included
Lunch will be on your own.
Important: If you own a massage table and can bring it to the workshop, please contact Lorenza at 617-953-3606 or email her at lorenzaholt@gmail.com. The more massage tables we have, the more all can practice the techniques. Your assistance is greatly appreciated!
If you own a birthing ball, again, please contact Lorenza. We will need a few balls for the exercises too.
Please bring a pillow. If you have a yoga mat and/or a rebozo please bring those also. We will work in pairs so if you don't have the above we will put you with someone who does.
Babies in arms welcome.
REFUND POLICY: Refunds up to two weeks before the workshop. Doulas and midwives who are called to a birth and notify us (phone or email) by the day of a workshop will receive a refund, less a $40 fee or they can send a substitute participant.
Questions? Contact Carole Kavanagh at The Boston Association for Childbirth Education and Nursing Mothers' Council bacenmc@gmail.com * 617-244-5102 * www.bace-nmc.org or Lorenza Holt at 617-953-3606 or lorenzaholt@gmail.com
Related Events