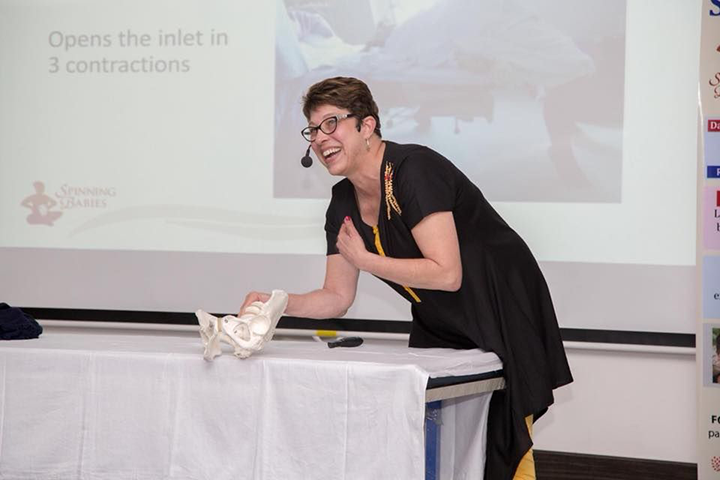 Tammy Ryan, AdvCD/BDT (DONA), SpBT is an international teacher and speaker in childbirth.
Tammy began her Spinning Babies exploration during her very first year as a doula in 2003. Tammy is also an active birth doula trainer whose curriculum is approved by DONA International. Tammy trains extensively and can be booked for workshops back-to-back with Spinning Babies® Workshops such as a DONA Approved Birth Doula Training or When Survivors Give Birth (Phylis Klaus and Penny Simkin's provider training for providers of birth care serving the sexual abuse survivor in pregnancy and childbirth).
Tammy Ryan loves teaching. Here's a fun moment with maternal positioning during the Flashlight Game.  
Preparing to do a bed lunge.
The Sidelying Release with the person's arm over her ear for a nice side stretch. Pictures by Katie Miles, Empowered Mama Doula Services in Witchita, Kansas, USA.
Read what Tammy Ryan's participants say about her workshops:
"I've been an LDR/LDRP RN for almost 29 years, and the class that I attended with Tammy Ryan has truly opened my eyes to a new way to look at labor. Our nurses (there were 11-12 of us that attended this session) just can't stop talking about and sharing the things we learned." – Donna McQueen
"Just finished my first amazing Spinning Babies workshop! Spinning Babies is an amazing approach to child birth, that I hope to be teaching soon! It was so awesome to be in the same room with so many passionate women about birth just like me! And we an awesome instructor Tammy Ryan! It was such a privilege to learn all these techniques for a better and healthier birth! I'm bursting with excitement for my next workshop and parent education training! I'm ready to be the best doula ever!" – Jenny Katze [and Jenny Katze did begin teaching Spinning Babies in-person preparation module to parents as a Certified Parent Educator in Virginia, USA! Go, Jenny!]
Tammy's Upcoming Workshops
There are no upcoming events at this time.