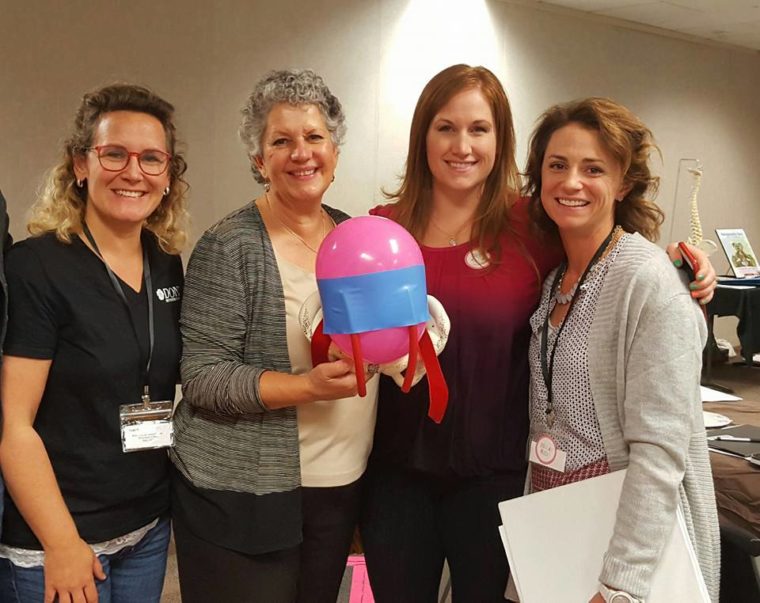 "Spinning Babies gives us an optimal understanding of how we can promote an optimal passage through the pelvis." – Lorenza Holt
Lorenza is Executive Director of Boston Association For Childbirth Education (BACE-NMC), and the Nursing Mothers' Council. Lorenza lives in Newton, MA. She's also the winner of the 2010 Womens' Health Hero by Our Bodies Our Selves' Collective in Boston. Read her nomination.
Lorenza entered the birth world as a homebirth VBAC Mother (a previous cesarean was due to placenta previa). Lorenza is surprised how little birth workers focus on the baby's rotation. Lorenza's work with Spinning Babies will help birth workers understand the baby's passage through the pelvis and support mothers' ease of labor with fetal positioning. She says, "my passion is strengthening the workforce of maternal and child health community health workers."
Email Lorenza at lorenzaholt@gmail.com.
Highlights of Lorenza Holt's workshop in Puerto Rico, courtesy of participants.
Read what Lorenza Holt's participants say about her workshops:
"WOW! What a great workshop! We had 25 participants ranging from doulas to physical therapists to midwives to chiropractors. It was a very full and exciting day. I am so glad we were finally able to get you to come here (even if it wasn't you, LOL). Lorenza was incredible! We plan on having her back in April." –Debbie Rotunno, President of Long Island Doula Association, Inc.
"This workshop has me high as a kite!! I knew it would be good but I was really just blown away. I worked in the city as a teacher for 5 years and went to many full day workshops where I can honestly say I learned nothing. Yesterday I feel like I got a complete education on women's physiology and how to approach labor from a whole new perspective." — Kaitlin McGreyes, Birth & Postpartum Doula, Long Island
"Hi Lorenza! Been meaning to write you since class ended. Just wanted to thank you for all you offered us those 6 weeks. I am constantly amazed at the community I become threaded into and feel supported by, especially during pregnancy and going into motherhood. Jared and I both got so much from your class. He's really shy and has a hard time negotiating public social settings, so although he didn't speak up much, he really absorbed a lot. One day actually, we were hanging with a friend of ours who is due to give birth just a few days before me. She was talking about how her baby was laying horizontal in the uterus and Jared immediately was like, 'Spinning Babies!' Which I thought was cool. 🙂 And at my Blessingway ceremony last week, he arrived at the end and we demonstrated some rebozo techniques for the entertainment and amazement of my friends….Thanks so much!" — Michele, one of Lorenza's students
Lorenza's Upcoming Workshops
July 20 @ 9:00 am
-
July 23 @ 6:00 pm
EDT