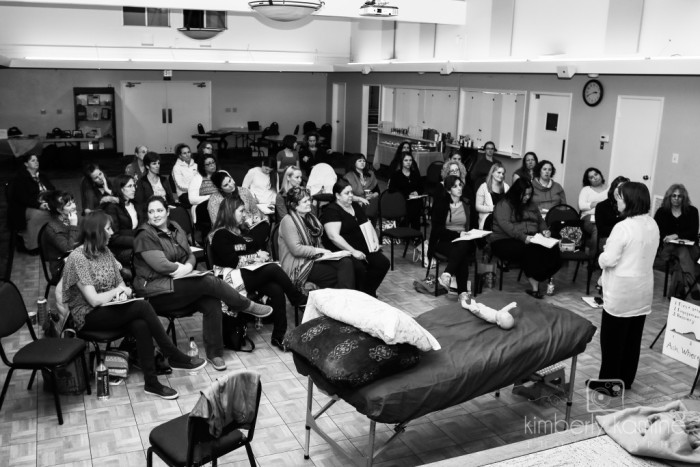 Meet one of 6 Spinning Babies Approved Spinning Babies Trainers on their individual listings and begin planning a workshop. Every Approved Trainer is independent and sets their own  fees.
If you'd like to host or sponsor a workshop, you can contact a specific Approved Trainer on the Approved Spinning Babies Trainer Page , or if you aren't sure who is available simply fill out the form at the bottom of the page. We'll find who is available in your area.
Here is what you would want to know if you were to host a workshop.
How long is your workshop?
Spinning Babies is often 7 hrs. Each Trainer sets her own workshop length.
Will you have CEU's available?  
Each Trainer arranges their own Continuing Education Units or Credit Hours. Very often the answer is yes. Ask the Trainer about CEUs for their workshop.
How much does it cost?
Email the Trainer  for cost details, or see their registration form. Each Workshop has a cost dependent on expenses.
The sponsor will pay transportation, housing, and a speaker's fee. The hostess only helps buy refreshments.  See below.
What do we need to supply for you?
See list below.
Will you be bringing the workbook for purchase or does it come with the course?
Participants receive handouts, in paper form or as an electronic version sent through email. The workshop is not the same as the workbook! The Belly Mapping Workbook can be bought for $14.95 for 1-5 or at 40% off for 6 or more from the store.
What size class do you need?
If you pay a speaker's fee, there is no minimum. If you host a workshop, each Trainer will set their minimum. Class maximum is typically 30 plus yourself.
What size room do you need?
Very large, open, carpeted room with AV. Room to move and walk around massage tables as well as seating. See more below.
Do I need to fill anything out?
Your Trainer will send an info sheet and a contract.
Does taking your class mean that I will be certified?
No. A Certification of Attendance is given (or sent later) but that is not a certification in Spinning Babies. The approval status of the Approved Trainers is a long process with several pre-requisites. These are summarized on the Trainer page.
What are the Spinning Babies Workshops?
Spinning Babies: Labor Progress through Fetal Positioning (There are continuing education hours)
Belly Mapping, Empowering a Mother to Identify Fetal Positioning (1-2.5 hours, no CEUs)
Gail also teaches:
Resolving Shoulder Dystocia (by Gail only, 3 hours, 3 MEAC CEUs for CPMS. Midwives/Apprentices, Physicians, L&D nurses only)
Breech Basics (by Gail, 3 ACNM CEUs) Nicole Morales has an independent class on breech.
Often, Sponsors set up multiple workshops in their area. Workshops can be hosted by the one or multiple hosts.
What's the difference between a host and a sponsor?
A sponsor takes registrations and pays the Approved Trainer a speaker's fee.
A hostess exchanges a wide range of hostessing tasks in exchange for her seat in the class.
Both share almost the same list of tasks. The sponsor adds registrations and the financial burden on their list, the hostess pays only for refreshments. Sponsors pay for venue, refreshments, flights, ground transportation and speaker's fee . Both aim for 28-30 participants. Both promote the workshop locally, in emails, social media, and local events in the months before this workshop. Each Approved Trainer will have a list of tasks to help you arrange your time and efforts.
Thank you for helping to bring Spinning Babies Workshops to your area!
Very good workshop.. My mind is pretty much blown. I really want my co-workers to attend this workshop. – A. Young, former L and D nurse, California
Spinning Babies Workshop details
These details vary according to approved trainer. It easily takes an hour to set up each workshop with your help. We need room for practice in the same room as seating.
Start times
 8:30 start: Spinning Babies Workshop 8:30-5 pm; lunch from 12-1:30. Pregnant woman comes from 10:00 to 12:00.
 9 am start: Spinning Babies Workshop has lunch from 12:30-2 pm, pregnant woman from 10:30 to 12:30.
Class times may be adjusted to fit the schedule needed by a hospital group sponsoring the class for their L&D staff.
Topics discussed include:
Common effects of posterior position on pregnancy and labor
A new view of Fetal Positioning includes the 3 Principles of Balance, Gravity and Movement
Labor progress through the levels of the pelvis; pelvic mobility and soft tissues release.
Practice activities for pregnancy comfort, spontaneous birth as nature intended, and cesarean avoidance
Sponsors and hostesses find a pregnant volunteer who fits the criteria to show the class pregnancy techniques. A pregnant registrant in her 3rd trimester is ideal. Or, a pregnant volunteer (36-42 weeks gestation) may come in for the last 2 hours of the morning session.
Belly Mapping (1.5 -2.5 hours): Add it after the Spinning Babies class and invite local birth groups to have table. Make it fun, make it a mini-fair. How to Belly Map for parents and providers. Includes Belly Painting and community building. This is a fun session for all! Pregnant parents and Spinning Babies participants join for an evening of fun after the Spinning Babies Workshop. Photo opportunities make a good promotion for your local group! (Have permission forms ready. No CEUs).
Gail's other classes (not available with the other trainers at this time)
Resolving Shoulder Dystocia (3 hours, 3 MEAC CEUs): lecture, video clips, and a small amount of practice. If I fly Southwest, a doll and manikin, or doll and pelvic box may be used in practice. From Gaskin to FlipFLOP, McRoberts and PAC Pull, find how to pick the right technique for each type of shoulder dystocia. Three levels of the pelvis mobility and diameters for understanding how to free the stuck shoulders. Dress comfortably because we practice on the floor. Sorry, no doulas or parents at RSD.
Breech Basics: Signs of a safe breech vs. signs of dystocia, when is it too late for transport, upright breech benefits, resolving breech shoulder dystocia and head entrapment. Does "hands-off-the-breech" really mean us? Three levels of the pelvis mobility and diameters for understanding how to free the stuck breech.
An evening workshop may follow a Spinning Babies Workshop at 6:30 pm. RSD and Breech Basics can be booked for the following day (not previous) and in the same location of the Spinning Babies Workshop. Hosting can be by the same or another sponsor. BEST option? Spinning Babies first, and RSD and Breech on the next day! What you learn at Spinning Babies helps you understand Shoulder Dystocia better, what you learn at RSD helps you understand how to free the breech shoulder dystocia. One workshop builds on the previous.
Please contact Gail with any questions or suggestions for making your workshop experience fun, useful and bonding.
Cost to bring the workshop(s)
There are two ways to have a workshop; as a sponsor or as a hostess. Each type will book the room, communicate frequently through email with Gail or the chosen Trainer and her own community to fill the class and answer participants' questions, set up refreshments, seating, and help with AV equipment and easel/whiteboard.
Pre-registration with you as the Sponsor – Option A
The sponsor sets the registration fee. Sponsor has the right to offer scholarships.The sponsor keeps any profit over Gail's fees, or pays the difference if their expenses are matched.
The sponsor is responsible to pay the honoraria for Gail's workshops, airfare, and provide ground transportation to workshop(s) from the airport and lodging. Sponsor arranges and pays one night hotel stay for each workshop; or arranges a private room in a non-smoking home very near the workshop. An iron will be needed if you don't want to see me in wrinkles! If Gail gives two workshops in one day, for instance, Spinning Babies until 5 pm, with Resolving Shoulder Dystocia in the evening from 6:30- 9:30 pm, then two nights of accommodations are necessary. Payment is made the day of the workshop by check, cash or PayPal. International sponsors pay through bank transfer, email for info after booking.
Honoraria (Speaker's fee) paid by the sponsor who takes registrations. Email Gail for specifics.
One day of presentation(s): fee plus one night at a hotel.
Day and Evening–  RSD or Breech Basics is offered that evening (same or separate sponsor) and in the same location: fee plus 2 nights hotel room.
Two-day (2 full days, can be same workshop twice or 3 different workshops in the same room), the fee plus 2 nights of accommodations (hotel or home).
Two days in two different locations? Fee is for one day workshop for each day. A pre- or Post-Spinning Babies Belly Mapping for the public (parents and others) can be added for a small fee per each participating pregnant woman/couple/care provider. Book is included in the US fee.
Pre-registration with Gail, with you as the Hostess – Option B
The Approved Trainer handles registrations, the hostess doesn't pay an honorarium. Hostess fulfills the duties such as arrangingvenue, Approved Trainer's ground transportation, lodging and refreshments.  If the class isn't 2/3 full within 3-4 weeks prior, the class may be canceled and  the participants will be refunded. Hostess promotes the class locally.
Pregnant Model
Whether a host or a sponsor, your job will be to find one local pregnant woman to come to the workshop in the morning 1 hour after start time until lunch break. Its wise to have a back-up model in case the first woman has her baby or doesn't feel up to coming. Its better not to have two come. The time is about 90 minutes after start time until lunch.
Ask the pregnant woman who is in her last month of pregnancy (37-42 weeks is ideal) if she has an anterior placenta. It is tricky to do Belly Mapping with an anterior placenta and often it can not be done. One baby is also a requirement. She can bring her partner. Ask her to wear something comfortable to get up and down in and help show various resting positions and pregnancy exercises as well as Belly Mapping.
Audio-Visual Needs
For all workshops, we need an easel and large pad of paper or white board and table. Except Belly Mapping, a large-screen TV with computer plug in, DVD player, or a projector. Approved Trainers with Macs may have a pin adaptor for the projector cable to their laptop.
Before Booking a Location
Please let the Approved Trainer know about the location before booking it. The room will be large, clean, carpeted (or with yoga mats, little rugs, etc.) private and with good A/V. A waiting room of a birth center would have to be big enough & private… photos appreciated!
Things to consider about location to make your workshop a success
Is the location in or near a favorite hospital or a regular doula or midwife meeting place? (Consider a conference room if it is large, private, carpeted, clean, centrally located, and free. Are doulas and midwives meeting there already?)
Is the actual site easy to access with off-street/free parking?
Can the hostess and Approved Trainer arrive at 7 am to set up, or the night before?
Set up and clean up: 1 hr with help before class /1 hr after class in the room. ( ~7 am to 5:30 pm.)
Travel and Accommodations
Sponsors pay airfare and provide housing or pay hotel costs. It's  more affordable if a two-day event is booked. Each Approved Trainer has their unique arrangements for travel and accommodations, ask the trainer you choose.
Responsibilities of workshop organizer(s), hostess or sponsors
Finding and securing a site with space for hands-on, and on-the-floor practice
Arranging for rental and/or set-up of audio-visual equipment, as needed.
Send the signed and dated contract (Sponsors)
Send the completed contact and location information form
Finding a volunteer pregnant woman (described on Task Timeline)
Acquiring 2-4 massage tables (Sp B & Belly Mapping classes only)
Setting out refreshments (coffee, teas, water, fruit, nuts, pretzels, eggs…)
Sending an email w/ cost, location, contact info; Ask for a flyer if you like.
Emailing that flyer out to individuals and groups via email on a schedule.
Sponsor will post on the flyer and registration materials exactly what the cancellation process is.
Sponsors who handle registration of participants will send Trainer a class list!
Email out the confirmation letter that you get from the Approved Trainer
Email electronic pdf. of the handouts to all registrants before class, if used.
If you want printed handouts use the pdf to make one-sided, quality copies.
Applying for additional CEUs (continuing education Units) if desired.
Delegates two people (she can be one of them) to help sign-in participants
Help with the selling of Spinning Babies products before and after the session.
Finding and securing accommodations for your Trainer during her stay (see below)
And anything else that will ensure that the workshop will run smoothly.
Read the Spinning Babies Task Timeline below.
Typical Responsibilities of Trainer
A written and signed Memorandum of Agreement to sponsors (not hostesses) confirming the details of the "Responsibilities of Workshop Organizer(s)" and of  the presenter, sent once the date is confirmed
An agenda for the workshop, sent to hostess/sponsor in advance of the workshop
Materials related to the presentation necessary for additional continuing education credit applications when requested, sent in advance of the workshop
Sending the flyer via email for email distribution and printing for you to post
Guidelines prepared the Approved Trainer to help you with planning budgets and timetables
An itinerary of  travel arrangements sent to hostess.
Send a pdf. of workshop handouts to sponsor; or, if hosted, the participants.
Trainer is available, if desired, for interviews with local media. Workshops may be audio recorded. Photos are allowed. Videotaping is not allowed.
What to do next if you would like to sponsor a workshop
Please send the chosen Trainer an email with all your contact information: Put your city name in the subject line, like this: Minneapolis Spinning Babies.
In the email include your full name and title, address and zip of all sponsor/hostess(e/s) and sponsoring organization(s), the desired date(s) and workshop title(s). Later, send the name and address of venue, including zip code and room number, and if applicable, the registration link/process.
Timeline for having a Spinning Babies Workshop
Here are the tasks for a successful Spinning Babies in your area:
Begin publicity 4-6 months ahead
To assess interest, email your community. A potential host should hear 20 verbal confirmations for Spinning Babies, 10 for RSD before booking––remember, paid registrations are the only commitment taken. No spots are saved without payment.
Agree on a date with the Approved Trainer after affirming space at the Venue. Check local birth/parenting events to avoid conflicts.
Send back full contact(s) and location details for immediate publicity needs.
Promote the workshop!

Get a flyer  and post copies at venue, etc.  Send flyer pdf to email lists.
Make a Facebook event, and/or other social networks.
Chat up the workshop on email list serves, forums, facebook, and twitter, now! = and again at 2 months, 1 month, 2 weeks, 1 week, 3 days and 1 day out.
Personally invite doulas, midwives, CEs, yoga teachers, nurses, bodyworkers, area doula trainers, and maternity centers.
Email the flyer to these and others emailing you/your org. about any birth topics.

Keep the Trainer updated on how registrations are coming in or visa versa.
Help people register when they can't or don't want to register online.
Email the participants the confirmation letter listing what they should bring (Sponsors).
Rebozos will be available for use in class (not for sale, unfortunately, unless your Approved Trainer has them).
Get 2-4 massage tables. 1-2 participants may have a massage table or two.
Invite a pregnant woman in her 36-42nd week who would like to participate in Belly Mapping and pregnancy activities from 10:15 to 12:30 if the class starts at 9 am.
Double check on the site arrangements within the month of the workshop!
Ask for the handouts in pdf. form (Acrobat) from the Approved Trainer and print 2-3 more than the number of registrants you have 2-3 days before the workshop (Sponsors print handouts/Hostesses only pick up handouts at a local print shop, and do not pay. Check with Approved Trainer for their details on getting handouts to the participants.)
Day of workshop. Meet Trainer at the location at 7 am (or other agreed upon time). You'll set up signs, tables, chairs, sign in sheet, refreshments. Trainer will set up her props; both on AV, easel.
Greet participants and help with sign in, name tags. Take payments, as needed.
Help after the session with book sales, clean-up and collecting evaluations.
Location details
Easy driving access to a major city and safe, off-street parking!
Seating in a semi-circle facing a large, carpeted, open area. See photos.
A table/pen at the entrance to sign in, fill out a name tag, get handouts.
A table for visual aids where the presenter stands.
A table for your coffee (mornings), tea, and water and simple refreshments.
A table to display and sell books (if offered).
Projector and white wall or screen. Check with AV person to see that our cables match!
Easel for a giant paper pad (vital) and that pad of paper or white board and markers.
"Host a Spinning Babies Workshop" Inquiry Form
Fill out this form if you're interested in hosting a Spinning Babies Workshop in your area. This is for Spinning Babies Workshops only. If you'd like to book one of the other types of workshops, please e-mail
gail@spinningbabies.com
. Gail and the Approved Trainers will review your request, and get back to you within the month. Thank you!
* Required