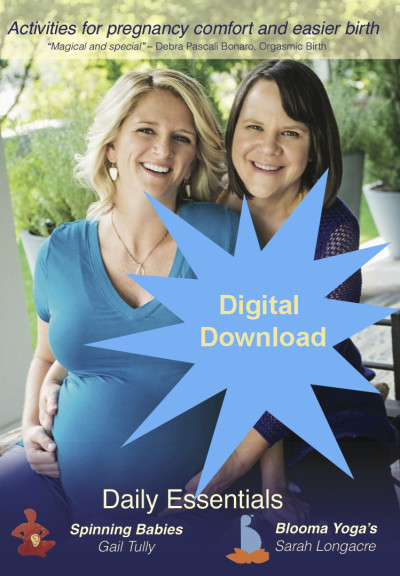 Daily Essentials Video Digital Download
Buy a digital download of Daily Essentials! Click on the top button on the right hand side of the video above to purchase it for $14.99!
Looking to buy the DVD hard copy? Get it here.
Gail Tully, midwife of Spinning Babies fame, along with Sarah Longacre, international prenatal yoga instructor and birth doula, offer a unique instructional video for comfort in pregnancy now, and flexibility for your upcoming birth. These daily activities begin balancing your pregnant body to make space for baby's best birth position. You'll get:
-Daily Activities: A gentle, 35-minute stretch into birth.
-Move Smart: Tips for walking, standing, getting in and out of the car without sparking sciatica, and more!
-Rest Smart – because Gravity works 24/7! Learn and play the flashlight game.
-Forward Leaning Inversion
-Sarah Longacre's 28-minute Blooma Yoga Flow
Enjoy this amazing video — it's unlike anything you've ever seen! 79 minutes.
Make sure you have lots of room on your device before beginning download. You can also watch this on your vimeo account from any internet source strong enough to stream. Update your browser before beginning.