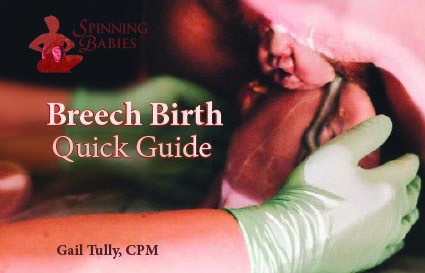 Breech Birth; Quick Reference
This 20-page guide is illustrated with drawings and photographs. Normal and complicated breech birth is described in ways designed to remind the well trained doctor or midwife. This is not a do-it-yourself guide! Only the most common issues of rotation and descent – or lack of rotation and descent – are described.
Physiologic breech birth in hands and knees maternal position is discussed.
Breech Birth; Quick Guide includes sections on; prenatal breech timeline, identifying breech fetal position, maternal exercises to make room in the uterus to allow a baby to turn head down, normal frank breech birth, when and how to be hands-on or hands-off, comparing normal & stuck breech birth, pelvic level insights, lateral flexion of baby's spine, inlet issues, how arms get stuck, freeing the arms, unusual arm variations, head on the brim, & freeing the head, midpelvis issues, outlet issues and more!
From a midwife:
"I have been getting snippets of information [about breech upright birth] along the way the last couple of years, including hearing about Dr. Louwen. …I feel grateful for that and my original training, but knowing I'm missing some things or it's incomplete.
"Part of my concern is just not recognizing when a baby was in trouble or misinterpreting the situation and intervening when I shouldn't and potentially causing a problem."
This honest concern reflects a common concern for all providers, What knowledge must we know to save a life?
This book will expand your awareness and skills in breech birth.
See why Midwife Nicole Morales, CPM, says this is the most complete written source for "how-to" in assisting an upright breech birth.
Midwife V. Krishnan in Hyderabad, India writes after a recent breech birth, "I feel that your wisdom gently guides me all the time. I "feel" and "see" things differently with the Spinning Babies paradigm.  For that, I am forever grateful.  Thank you. Love u."
Educators discount is available for bulk orders of 10
Additional Information
| | |
| --- | --- |
| Weight | 5 oz |
| Dimensions | 8.5 x 5.5 x .25 in |