Spinning Babies extends past the concepts of Optimal Fetal Positioning (OFP), which were a break-through concept in childbirth education.
Now Spinning Babies brings a new approach where birth and body work merge to reduce the interventions of force (as well as the misappropriation of more time in cases where the baby is actually stuck) which are all too frequent in modern birth. Women may find the comprehensive pregnancy preparation and activities during labor ease birth even when the baby is in a good position or make a vaginal birth more likely even if the baby is not in the best position (see details on what I mean and what I don't mean in Baby Positions).
Childbirth educator Pauline Scott coined the phrase Optimal Fetal Positioning to describe the work of Midwife Jean Sutton.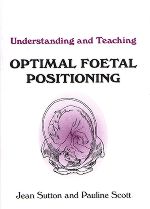 These two women published Understanding and Teaching Optimal Fetal Positioning in 1996.  I believe OFP (as it's come to be known by) is a break through concept. Jean Sutton brings to our awareness the importance of mother's posture and positions in pregnancy, in labor and also the importance of baby's engagement into the pelvis at about 38 weeks. Their book includes several tips and bits of birth stories.
Why don't randomized control studies support Optimal Fetal Positioning when midwives and doulas do?
Optimal Foetal Positioning was "dumbed down" by public use to mean only the Left Occiput Anterior position.  Jean Sutton made the provocative point that birth seems to go easier when baby comes down from the left. This is due to a natural shape (called right obliquity) of the uterus to be rounder on the left and steeper on the right. The effect is that babies from the left are more likely to be curled to aim the crown of the head into the pelvis. The baby from the right may rotate to the posterior in labor due to the steep side extending the back and pointing the top of baby's head into the pelvis. I agree that this is likely to be true and even if it isn't always true, it follows enough to be a critical skill for providers to be able to track fetal position and what to help make rotation from either side easier for baby.
Two facts will help you to understand why fetal position is important:
Baby's rotate through the pelvis to emerge from the womb.
Fetal position effects the relative ease of fetal rotation and descent (including engagement).
My belief is that maternal positioning will support optimal fetal positioning when we have balance in the pelvis (including ligaments, fascia and muscles). Balance first. Combining body balance (a phrase used by Dr. Carol Phillips, DC, and a modality frequently praised here at Spinning Babies).
In a  long or painful labor, or when baby seems not to fit, we must be smart about finding which level of the pelvis the baby's leading part (head or bottom) is waiting or pressing upon.
By noting fetal position and/or the station of fetal descent, a system of protocols (series of activities) can be matched to help mother and baby. So, first we balance and then we pick maternal positions to  Address the muscles and other "soft" tissues and match the technique to open the diameter of pelvic level (pelvic station) where baby's head is staying in a non-progressing labor.
Fetal position shares a stage with several leading actors, such as Flexion, Body Balance, and, don't forget the importance of the Parasympathetics in the ease of birth.
Spinning Babies must not be called Optimal Fetal Positioning. Spinning Babies is a much wider approach and involves solutions for babies that are not in an optimal position, too.
Optimal Fetal Positioning was an important step in the development of childbirth education and in practice. Modern lifestyles need more than maternal positioning to aid fetal positioning. Body balancing is necessary and so is a unique paradigm to put Balance before Force in the minds of care providers and parents alike.